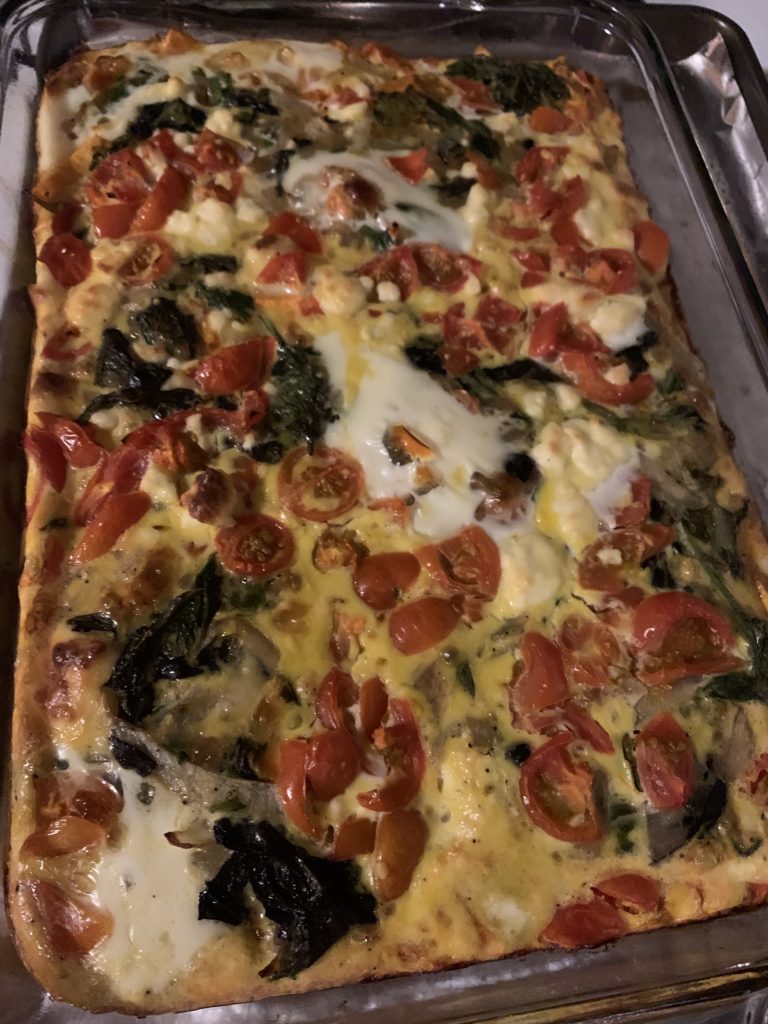 I love simple recipes that are loaded with nutrients. This delicious frittata delivers on all counts. Plus, it's easily customizable. You can add or change vegetables to suit your palette and the taste buds of whomever you are dining with.
Bonus, this can be stored in the fridge for three days, so you can cook up a big serving and enjoy it for several meals. I love when nutritious and delicious meals can be prepped ahead of time. It's so easy to make healthy choices when it's already prepped and ready to go.
The Veggies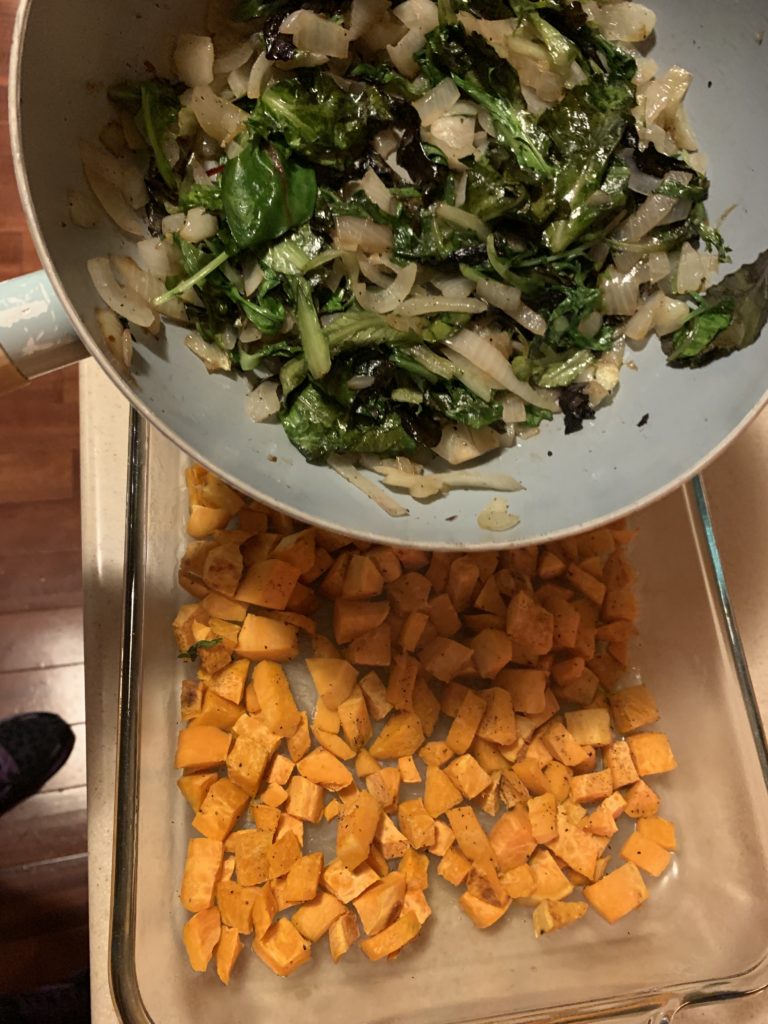 The veggies I chose for today's frittata: Sweet Potatoes, Field Greens, Onions and Sliced Cherry Tomatoes. I like to use colorful vegetables in my meals. First of all, it's visually satisfying. I'm not a master of plated food photos. There are some people who have refined plating food into an amazing visual art. More importantly, a variety of natural colors in your meals is a good indicator that you are getting a range of nutrients.
For this meal I roasted the sweet potatoes in the oven for 25-minutes, and sautéed the onions and greens before layering everything together and baking it.
I prefer to make this in a large baking dish so we have plenty of leftovers. My whole family loves this meal so a smaller dish goes to quickly. You can cut the recipe in half for a smaller portion. I normally store it in the fridge in an airtight container for three days, but it can also be frozen if you want it to last a little bit longer.
Sometimes I add smoked salmon or another protein of choice to this recipe. I love how versatile it is. If you switch things up and make this your own, please share your recommendations in the comments below.
The Recipe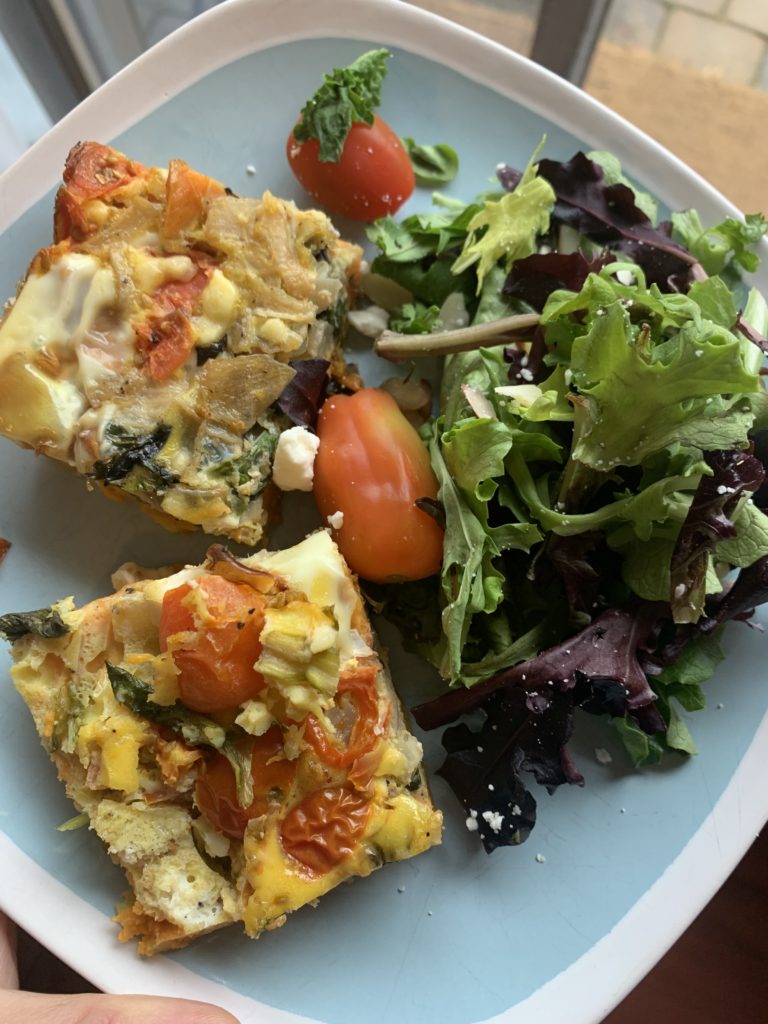 Ingredients
-12 Eggs
-Sweet Potatoes-Peeled and diced (Aprox. 1.5 pounds)
-2 medium Onions
-Tablespoon minced Garlic
-Extra Virgin Olive Oil (1/2-1 Tablespoon)
-Field Greens, Kale or Spinach
-Tomatoes (sliced or diced)
-Feta (you can omit this or substitute Parmesan cheese)- I use aprox. 3-6 ounces of cheese.
-Salt and Pepper to Taste
Step 1: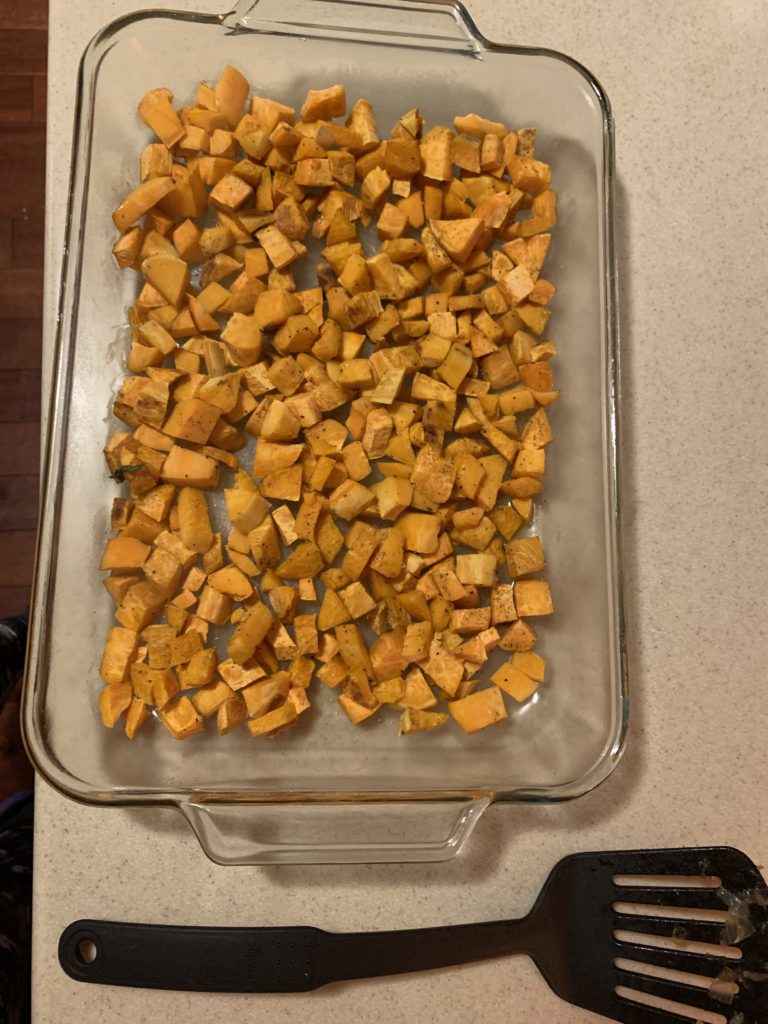 Pre-heat oven to 350-degrees Fahrenheit.
Peel and dice sweet potatoes and place them on a baking tray in a single layer. Top with salt and pepper. Bake 25-minutes or until tender.
After baking is completed transfer the sweet potatoes into a baking dish and layer across the bottom of the dish. Leave the oven on at 350-degrees.
Step 2: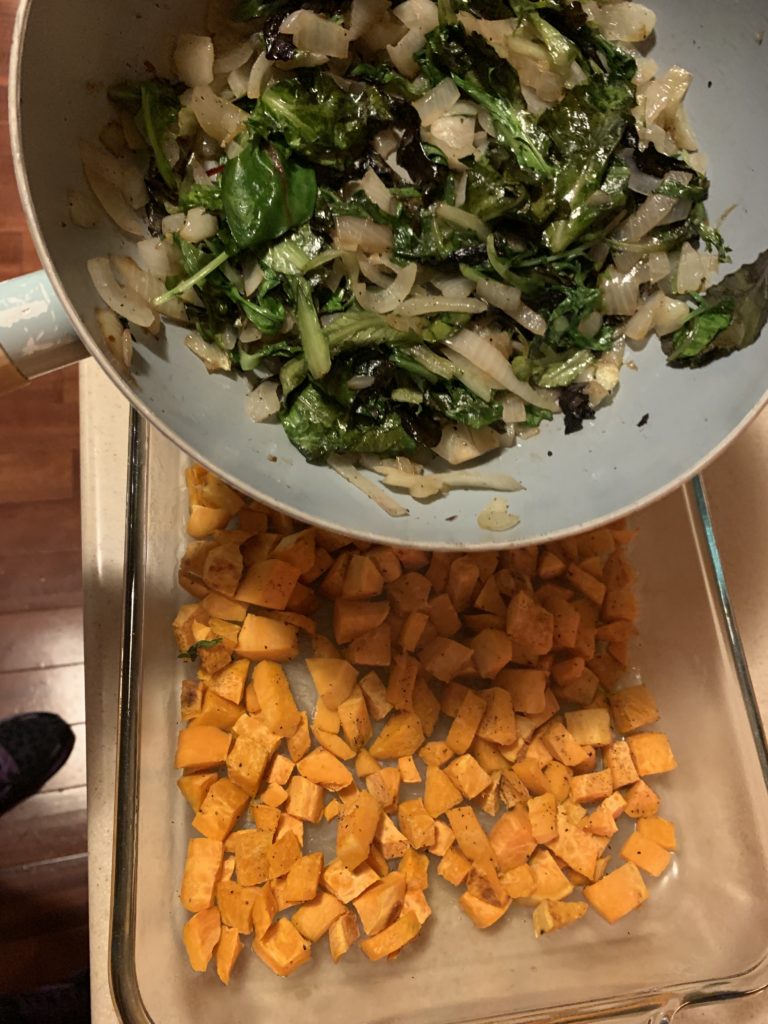 While the sweet potatoes are in the oven sauté the onions and minced garlic in extra virgin olive oil. When the onions become translucent throw your greens of choice into the pan and continue to sauté until the greens are wilted.
When that is complete, add the greens into the baking dish and layer over the sweet potatoes.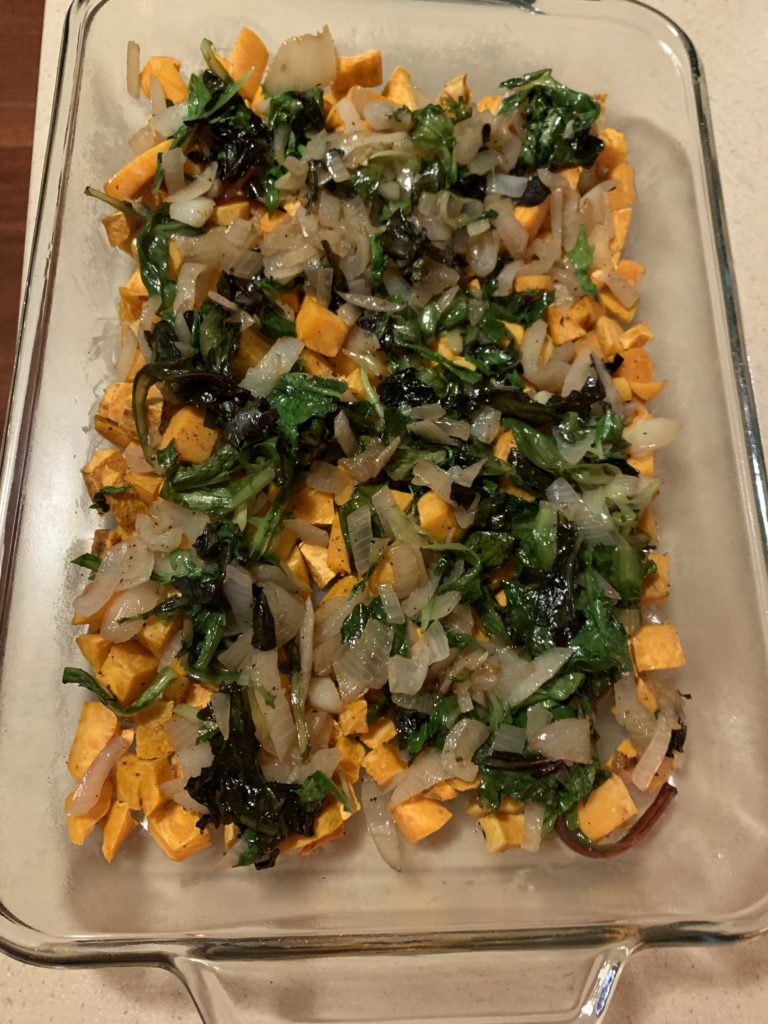 Top the layer of greens with your tomato slices. This step is pictured in the photo below, during step 3.
Step 3: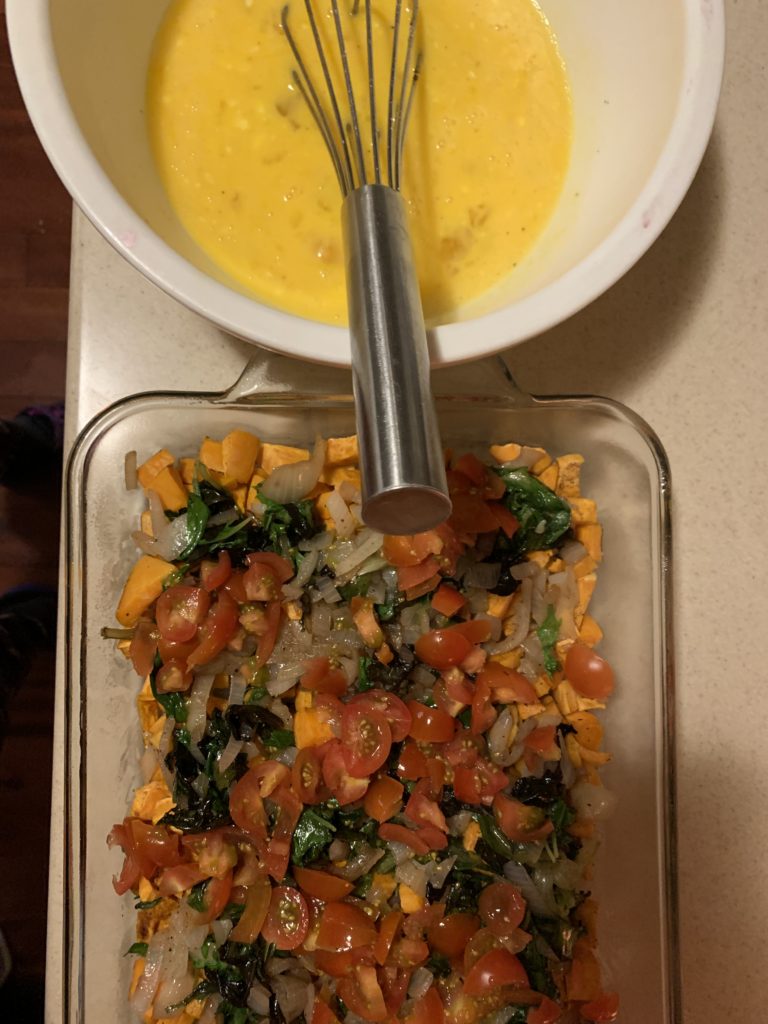 In a large bowl whisk together eggs and cheese. When they are combined you will pour this mixture over the vegetables.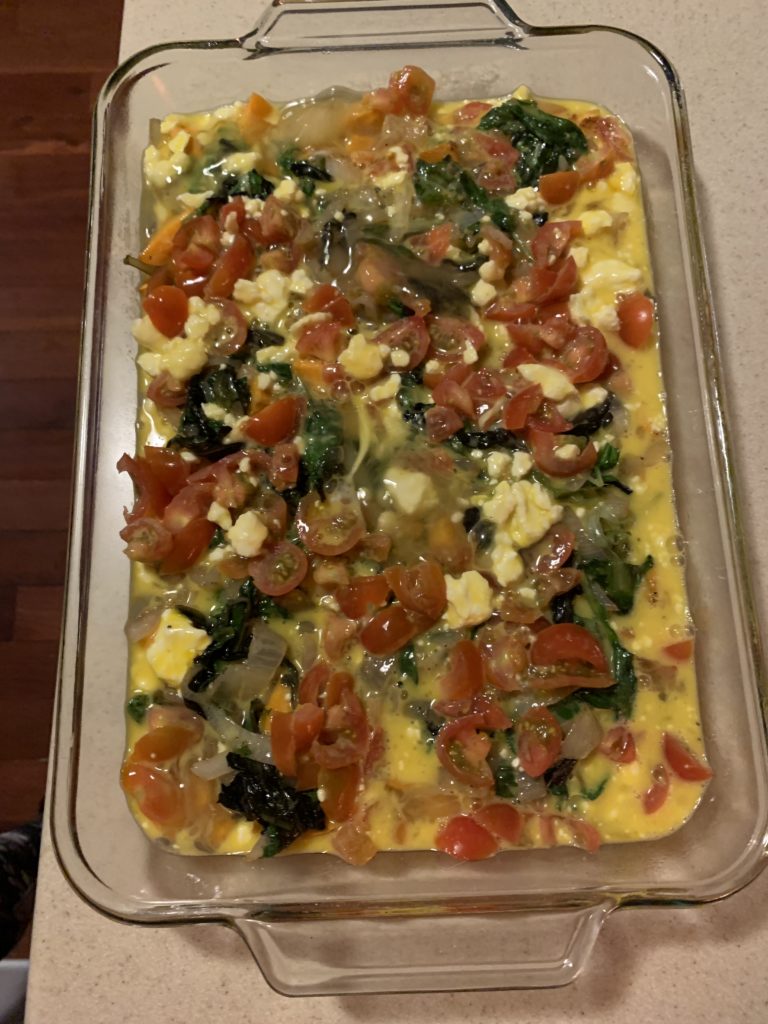 Step 4:
Place the dish in the oven. Bake for 35-45 minutes. I always check the dish at 35 minutes, but it usually takes the full 45-minutes to fully cook.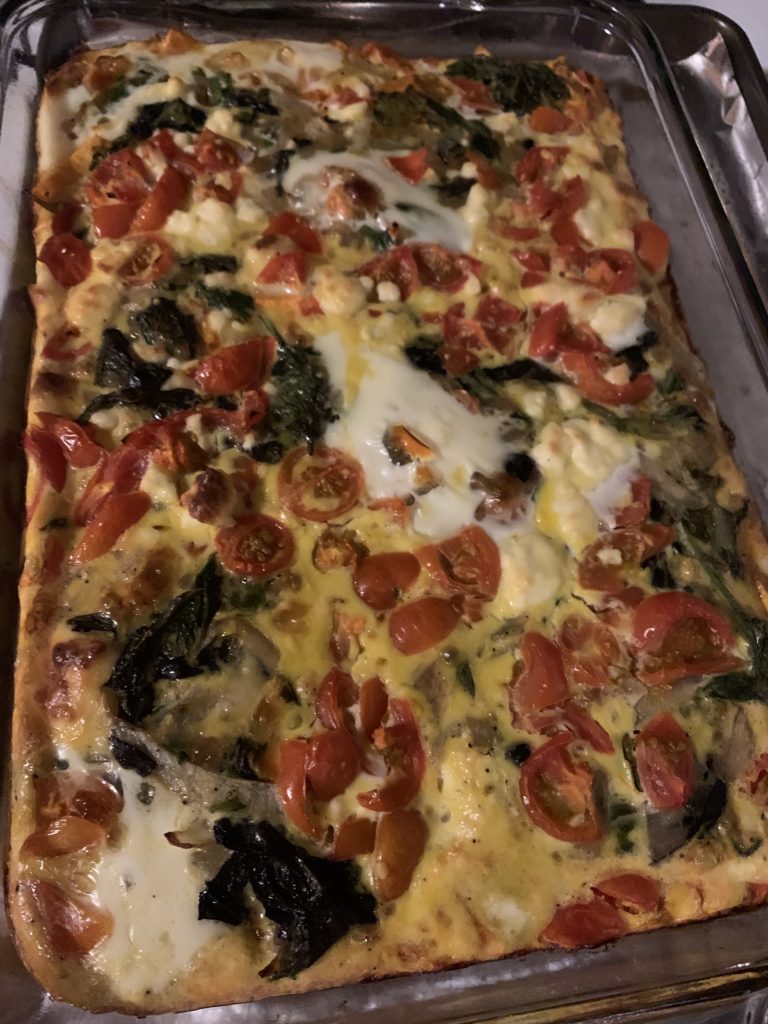 Step 5:
Remove from the oven and enjoy! If you want more greens serve with a side salad. It's also delicious with some toast or served with avocado slices.