Hello Everyone,
Welcome to today's workout. This workout routine is primarily focused on the core, but also incorporates some amazing moves that will activate the muscles of your glutes, inner and outer thighs, and hamstrings.
I love multi-functional, compound exercises that maximize a workout. I went through today's workout twice. It was a great burn and challenge. You can repeat it up to three times.
I included some exercises to really focus on strengthening the core from the inside out. In the Hip Tilt to Leg Press exercise focus on using the deep core muscles to pull the hip bones toward the low ribs. It's a small movement, but it is powerfully effective for activating those deep core muscles. If the leg extension is too intense during this movement you can repeat the hip tilt for the full 50-seconds. There is always a way to modify a movement.
Modifications, shaking muscles, sweating, getting out of breath…none of those are bad things. Often people get embarrassed and start shaming/berating themselves over those moments in a workout. You are showing up, challenging yourself and teaching your mind and body how competent you are at doing difficult things. Working hard and having the ability to challenge yourself and move outside of your comfort zone is something you should be proud of.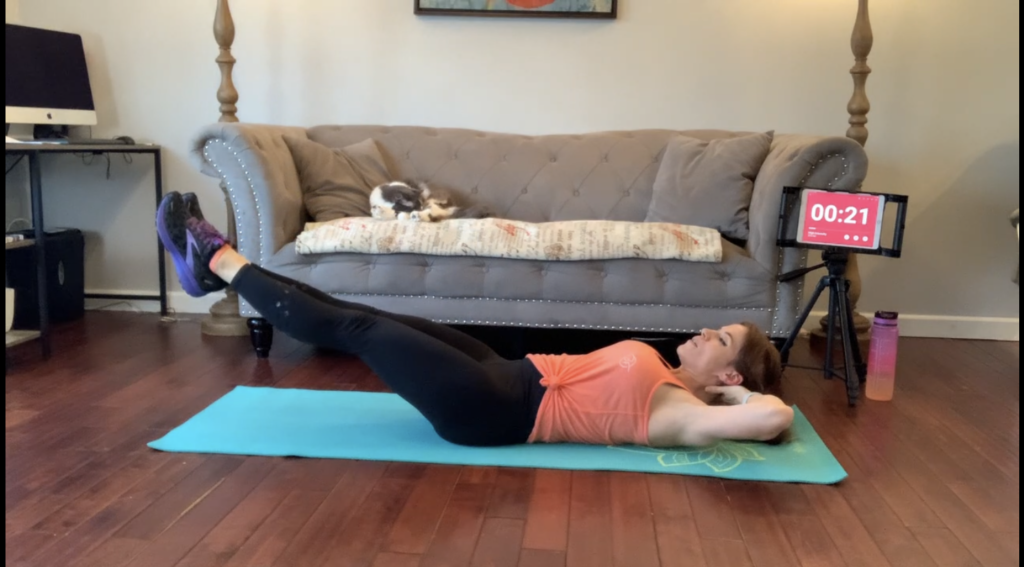 How to Measure Fitness Progress
Measuring progress in a fitness program can be very motivating or very demoralizing. Deciding how you want to measure your progress requires taking a good look at what motivates you, and what thoughts or habits eventually become a hurdle to your progress.
For example, a weight loss goal might be motivating when you see the scale move and demoralizing when the number plateaus or moves upward.
As a trainer, I feel most successful when the people I train measure their progress based on what they have gained, instead of what they have lost.
For example, it's powerful to hear someone say that they no longer have daily back pain, or they now have the energy to participate in physical activities that they weren't able to participate in before. When someone changes a goal from focusing on number of inches lost to number of push-ups completed in a minute I internally do a little happy dance. The mental shift that happens when you focus on what your body is capable of vs what you want to change about your body is powerful. I don't care what the number on the scale is, what your BMI is, how many reps you can do, you are worth loving as you are right now.
What are you capable of right now? If you find yourself in a cycle of self berating, take a moment to answer that question. Then follow it up with: what do you want to be able to do? This is where goal making can be a powerful tool. I want to be able to run a 5K any time I want. I want to have the energy to play with my kids. I want my body to be pain free and strong well into old age. Whatever your goals are they should be meaningful to you. My goals are part of the reason that I train consistently. They are lifelong goals that help me to prioritize physical health because it impacts my ability to participate in everything else in my life.
While weight loss can be part of making healthy changes for some people, it's more important to look at the whole picture. What functional changes are happening as a result of the healthy decisions you are making?
So, what are your goals? I would love to hear them in the comments.
Melissa
You can find me on Social Media: @BenderFitness and on Facebook: @MelissaBenderFitness Pinterest: Pinterest.com/BenderFitness
If you want to help support BenderFitness so we can keep bringing you new workouts, your donation is greatly appreciated: https://www.patreon.com/BenderFitness.
Shop BenderFitness Gear: https://my-store-c67ce6.creator-spring.com
Knee Drop Plank
Hip Tilt to Leg Press
Superman
Elbow Tap Side Plank: Right
Elbow Tap Side Plank: Left
Angel Abs
Beast Reach/Rib Hug
Side Scissor: Right
Side Scissor: Left
Crab Crunch: Right
Crab Crunch: Left
Kneeling Hip Lift: Right
Kneeling Hip Lift: Left
Knee to Elbow Hydrant: Right
Knee to Elbow Hydrant: Left