Hi Everyone!
As you know, I'm a big fan of vegetables. I love how nutritious and colorful they are, and it's a lot of fun coming up with new ways to incorporate veggies into our meals.
Of course, one of the easiest way to get a lot of vegetables in one serving is to add them to soup. Which is perfect, because soup has been a big pregnancy craving for me.
Throughout the first trimester I have been very sick, so I try to incorporate as much nutrition as possible, especially when I am actually craving a meal.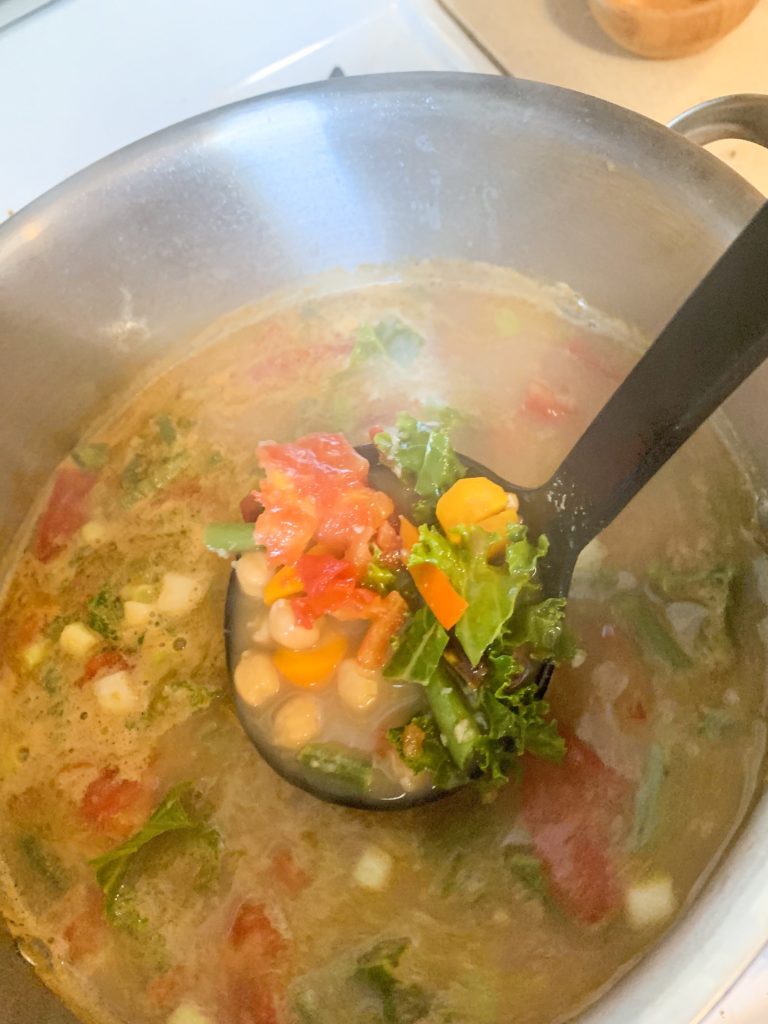 This soup is loaded with carrots, kale, green beans, chick peas, tomato, peppers and green onion. Remember, the different colors of the vegetables you consume means that you are getting in a wider variety of nutrients.
I played a bit fast and loose with the ingredients and worked with what I had on hand, which meant mixing two types of broth. The result was absolutely delicious, but you can always use broth of your own choice. Pregnancy cravings don't necessarily want to wait for a run to the supermarket to get matching ingredients.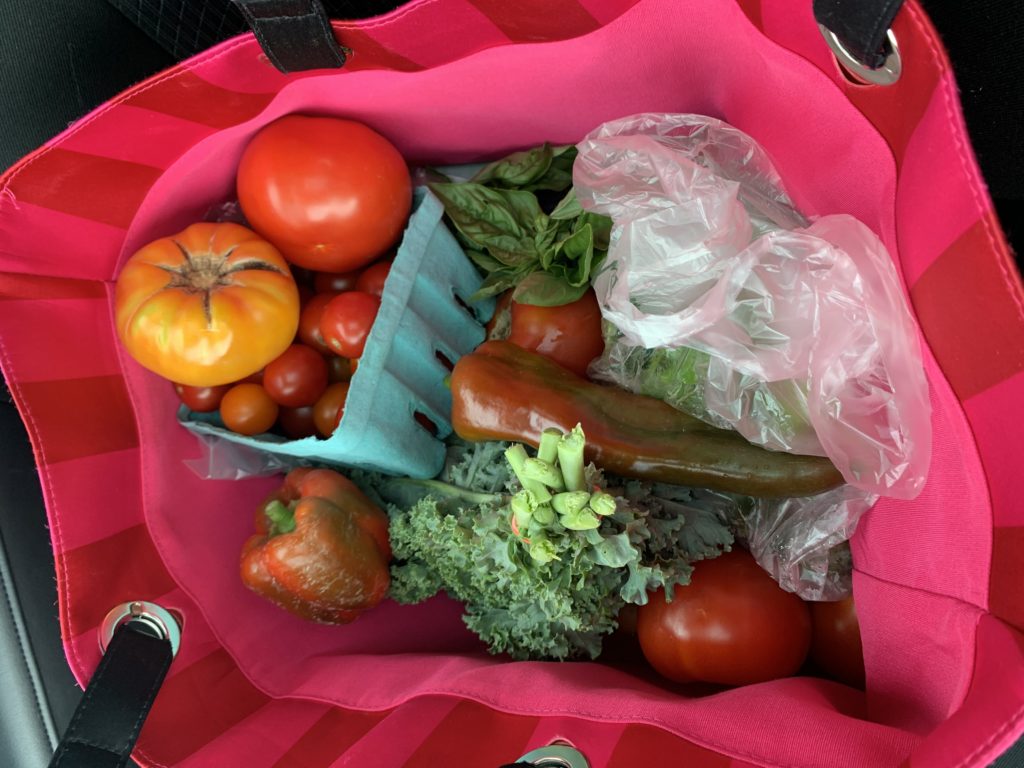 All of the vegetables that I used were locally grown. I get a weekly CSA Box from the University where I teach. It's part of an amazing program that teaches students sustainability and growing techniques. If you have any farms locally, I recommend reaching out to see if they do CSA boxes. Another great option, is buying your vegetables at a Farmers Market.
Wherever you get your vegetables from, be sure to wash them well and eat them frequently! I hope you enjoy today's soup recipe.
Let me know what you think, and any modifications you make. This can easily be adjusted to be Vegan or Vegetarian friendly by using vegetable broth and vegan potstickers.
Have fun!
Melissa
PS You can find me on Social Media: @BenderFitness and on Facebook: @MelissaBenderFitness and Jesse is on Instagram: @BenderCrosby1
PPS If you want to help support BenderFitness so we can continue to share and create Free Workouts, your donation is greatly appreciated: https://www.patreon.com/BenderFitness.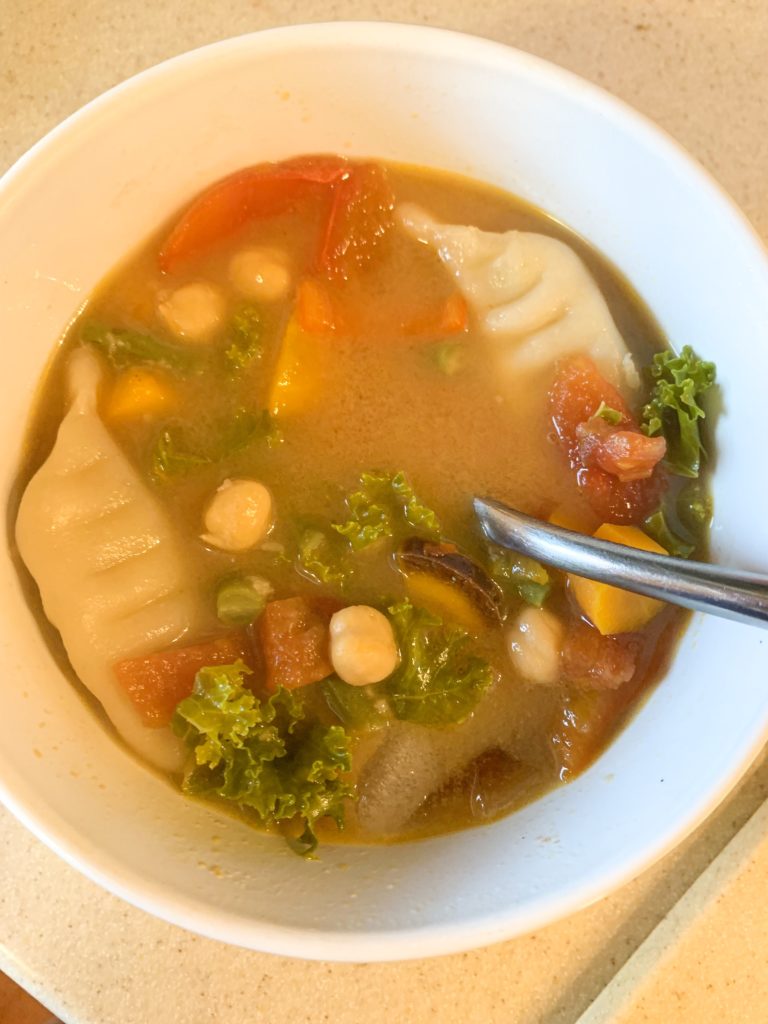 Vegetable Soup with Chicken Potstickers 🥟 
*I didn't measure all of the ingredients, but I like a hearty vegetable filled soup. I also worked with the ingredients I had on hand because my pregnancy cravings for soup are intense!*
Ingredients:
5 cloves of Garlic
Extra Virgin Olive Oil
Carrots chopped 🥕
Tomato diced 🍅
Large red pepper sliced 🌶
Kale removed from stem and chopped 🥬
1 can Garbanzo Beans (chick peas) drained and rinsed
1 handful fresh green beans chopped
3 green onions chopped
1 package of chicken potstickers 🥟(I bought mine from Aldi)
2 35-fl. Oz. containers of broth (I used one container of Ramen broth and one container of vegetable broth)
You can easily customize this recipe with vegetables and broth of choice. You can substitute vegetarian potstickers (or omit them from recipe) to make this vegetarian or vegan friendly.
Put oil into the bottom of a soup pot.
Add minced garlic and heat until fragrant over medium high heat.
Add broth.
Add vegetables, starting with carrots and harder vegetables.
Bring to a boil, and boil until carrots are cooked through.
Add potstickers. (I also added the potsticker/dumpling sauce to the broth).
Bring to boil and cook until potstickers float.
Serve and enjoy!