HI Everyone!
This is a quick Lower Body workout that will strengthen you legs and butt from every angle. To target each area we are going to complete exercises that utilize each plane of motion.
For this workout grab some dumbbells (you can also choose to use body weight) and a chair or bench (something you can put a foot up on). Push yourself to move through the reps quickly. Even after one round I was able to work up a great sweat.
This workout is completed for Reps, but I like that it's easy to sneak in while my son is napping. I can do one round if I only have a few minutes, or repeat it when I want to get in a more intense workout. It's also a quiet workout, no jumping. We are focused on building strength and shaping the lower body.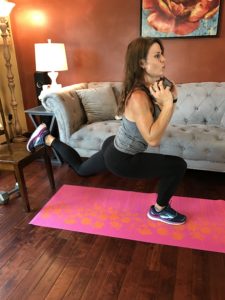 This routine uses single leg movements to target any muscle imbalances. It's normal to have one leg that is stronger than the other. You have a dominant leg, just like you have a dominant hand. When you train your legs individually it helps to even out any imbalances, and helps improve your form for other exercises. Focus on the areas that you are targeting. Being mentally involved in your workout (instead of distracting yourself to get through it!) helps maximize your results.
Have fun with today's workout! Be sure to check-in throughout the week, it helps you stay on track and be accountable for sticking to your workouts. 💪🏼 I love to hear about your progress, and how many workouts you get in during the week.
Thanks for working out with me!
❤ Melissa
PS You can find me on Social Media: @BenderFitness and on Facebook: @MelissaBenderFitness and Jesse is on Instagram: @BenderCrosby1
For my non-fitness related posts, I am on Instagram as @Melissa_Bender_Life
PPS If you want to help support BenderFitness so we can stay free and sustainable, your donation is greatly appreciated: https://www.patreon.com/BenderFitness
Quick Workout for your lower body.
Complete 10 reps of each exercise per leg.
Warrior (Single Leg) Deadlift
2. Leg Series
3. Pendulum Squats
4. Bulgarian Split Squat
5. Hydrant
Repeat this routine up to 5X.