Hi Everyone!
Are you ready for this week's workout schedule? Six different workouts that you can do at home, all combined in one easy playlist. Each workout can be repeated up to three times. I recommend aiming for 30-60 minutes of total exercise per day. That can mean repeating a workout, or going through the routine once and also getting in a run or walk.
Day One starts with a 20-Minute workout for your core, arms and legs. This workout is led by Jesse. His energy is contagious! You get extra kudos if you can keep up with him. Those of you who have been following BenderFitness workouts for a while, know that Jesse is a runner. He uses our HIIT workout to maximize his running speed, prevent injury and maintain muscular balance and strength.
Day Two is a 15-Minute Total Body Workout. You're working out with me today. You don't need any equipment. Just push yourself to get in maximum reps without sacrificing form.
Day Three is focused on the lower body. Don't let the fact that it's low impact fool you. I created LIIT (Low Impact Interval Training) workouts to maximize strength gains, without putting a lot of pressure on your joints the way plyometrics do. It's also a great option if you need a quiet workout (apartment friendly and sleeping baby friendly!)
Day Four is a 20-Minute Total Body Cardio Sculpt and Fat Burning Exercise Routine. Challenge yourself to get in max reps. You should be breathing heavy, sweating, and challenging yourself to move past your current limits. If you max out on reps, that's a good thing! Strength improves when we max out. Rest and then keep on moving!
Day Five is a Lower Body and Core Workout with Cardio Fat Burn. This is a fantastic 30-Minute workout. Gran some dumbbells to add resistance to this workout, or do the exercises with Bodyweight. You will need a chair or bench for a couple of exercises during this routine.
Day Six is a 12-Minute Core and Back Workout. It's quick and effective. This routine is a great way to finish your workout week.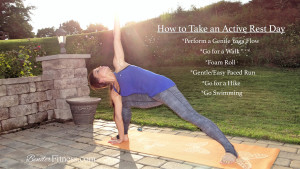 Day Seven is a rest day. Rest is Important for letting your body heal and your strength improve. Don't skip your rest day! You can stay active, but it should still be restful and fun. One of my favorite active rest activities is kayaking. It's fun, and relaxing at the same time, but it definitely keeps your body moving.
Remember, there are many approaches to fitness. I like to combine my workouts with an active lifestyle. Being outside makes me happy, and I feel that it's very important to let my son experience being outside as much as possible. Sometimes that means a family hike, or a family kayaking trip. Depending on where you live your options might be a little bit different, but keeping yourself moving will help you feel good.
Let me know how your workout week goes. I highly encourage you to write down and track your workouts. It will help keep you accountable. Write down how many rounds you do, and any extra cardio you get in. Track how you feel. When you have a visual reminder of your consistency and progress it helps you stay on track.
❤️ Melissa
PS You can find me on Social Media: @BenderFitness and on Facebook: @MelissaBenderFitness and Jesse is on Instagram: @BenderCrosby1
For my non-fitness related posts, I am on Instagram as @Melissa_Bender_Life
PPS If you want to help support BenderFitness so we can stay free and sustainable, your donation is greatly appreciated: https://www.patreon.com/BenderFitness