Good Morning Everyone!
I hope hope you are ready for a fantastic week of home workouts. You can do each of these exercise routines at home, or bring them with you to the gym, or even a hotel room. The workouts in our schedule this week use little to no equipment.
A few of this week's workouts include dumbbells. I like adding dumbbells into some of my workouts to maximize the strength gains, and continue to progress my fitness level. Choose a weight that adds challenge to the movements, without sacrificing form. If you max out (can't do any more reps) it means that you are entering the strength building phase, which is great for our metabolism.
Remember: Your workouts should be challenging! If it feels too easy, it's time to add more weight, go for another round, or aim to get in more reps during each interval. Struggling through the last few reps, being out of breath, and sweating are all signs that you are working at the right level of intensity.
During this week all workouts can be repeated up to 3X. Do them alone, or pair with 30-minutes of Cardio of your choice. Take one active rest day this week to allow your body to recover. Rest helps you grow stronger, and is an integral part of the workout program.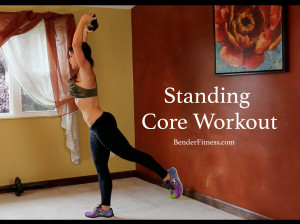 Day 1: Standing Abs Workout: Grab your dumbbells for this standing core workout. No crunches, or getting up/down from the floor during these exercises. It's quick and efficient. Repeat the workout up to 3X to maximize your results.
Day 2: 16 Minute Cardio Fat Burn HIIT: You don't need any equipment for this routine.  Challenge yourself to go for maximum repetitions. Get sweaty, and workout yourself into the cardio burn zone. Breathing heavy during this routine is totally fine!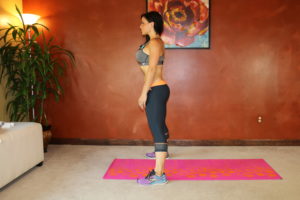 Day 3: Booty Bump Up AND 5-Minute Arm/Back Workout. The Booty Bump Up Routine will only take 12-Minutes Per Round. You don't need any equipment for this workout routine. Even though it's called the Booty Bump Up, this is a total Body Workout. Challenge yourself to get in max reps during each interval. The five minute arm workout uses dumbbells and a chair.
Day 4: Lower Body Sculpt and Fat Blast. Push yourself for maximum reps during this routine. Try to go outside of your comfort zone to challenge yourself today.
Day 5: 20-Minute HIIT Boot Camp. You get to workout with Jesse today! That means you will get in a great workout, and probably laugh while you are doing it. His energy is contagious!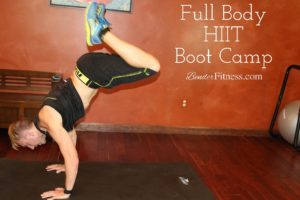 Day 6: Workout for Strong Lean Legs. Total Body routine, with a focus on strengthening your lower body. Your legs are home to some of the largest muscles in your body, which means keeping them strong keeps your overall strength and metabolism boosted.
Day 7: Rest. Let your body recover so you are ready for next week's workout selections!
Let me know how you feel throughout the week. I will be posting check-in posts on Instagram and Facebook. Checking in helps keep you accountable. We can all stay on track, and strive to hit our goals together. We are stronger together, so don't be afraid to encourage each other.
Have fun this week!
❤ Melissa
PS You can find me on Social Media: @BenderFitness and on Facebook: @MelissaBenderFitness and Jesse is on Instagram: @BenderCrosby1
For my non-fitness related posts, I am on Instagram as @Melissa_Bender_Life
PPS If you want to help support BenderFitness so we can stay free and sustainable, your donation is greatly appreciated: https://www.patreon.com/BenderFitness
*The playlist is above. To see all workouts in the playlist look to the top left corner of the video. There are three horizontal lines with a play button. If you click those lines it will drop down the list of videos. You can also find the full playlist on my YouTube channel. ❤ 💪🏼*