Hi Everyone!
Today's workout is a quick HIIT for your entire body. Plenty of cardio and fat burning exercises in this routine. Be sure to push for maximum repetitions, without sacrificing form, to get in the most benefit.
One of my favorite things about HIIT, is that it is adjustable for every level. Each person can push for their personal best, and maximum reps. If you are breathing hard and sweating, that's a great sign that you are pushing yourself. With exercise, we learn how to listen to our bodies, and how to push ourselves through plateaus. We break plateau's by continuing to try the things we find most difficult.
This routine is designed to be challenging, and burn fat, while maintaining your lean muscle mass. Don't be afraid to sweat. Don't be embarrassed if you are out of breath. I am right there with you. Remember, challenges make us stronger. Challenge yourself to get in that extra rep, even when it gets hard.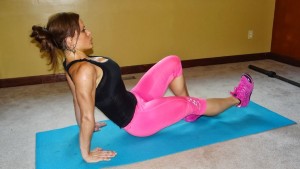 Weekly Goals: I posted my weekly goal on Instagram. This week my goal is to get in three workouts, and two runs. Having a plan helps me stay on track. I am working my way back up to a more consistent workout routine. So far my week has looked like this:
Sunday: 3.65 Mile Run
Monday: 60 Minutes Yoga, 20 Burpees, 20 Jump Squats, 3 60-second High Knees
Tuesday: Yard Work (I raked leaves for hours, and my hands and shoulders are sore!)
Up and Coming:
Wednesday: I have this workout on the agenda (1 round) and a new LIIT workout (that you will be seeing in the not to distant future)
Thursday: Run + Core
Friday: 60 Minutes Yoga
Saturday: TBD based on how I feel. I picked up a shift, so I consider this a flex day, where a workout will be a bonus if I can make it happen.
Let me know what your workout week has been like so far. Do you set goals on a weekly basis?
Much love,
Melissa
PS You can follow me on Instagram: @BenderFitness
Facebook: @MelissaBenderFitness
Jesse is on Instagram: @BenderCrosby1
For my non-fitness related posts (in other words, for lots of pictures of my son!) I am on instagram: @Melissa_Bender_Life
PPS If you want to help support BenderFitness so we can stay free and make our site more sustainable your donation is greatly appreciated: https://www.patreon.com/BenderFitness
Max Reps 50 seconds, 10 seconds rest between exercises
1. Mountain Climbers
2. Jump Squats
3. High Knees
4. Lunge Jumps
5. Russians
6. High Knees
7. Frogger
8. Plie Jumps
9. High Knees
10. Hip Thrust (right)
11. Hip Thrust (left)
12. High Knees
13. Pendulum Hop
14. Burpee
15. High Knees
Repeat up to 3X