Hi Friends!
I hope you are ready for today's workout. With today's workout series we are focusing on strengthening our abs. This routine will work your midsection from every direction, to give you a stronger, healthier core.
Since having my son I find that I struggle with a lot of core exercises that used to be easy for me. I need to rebuild my strength and endurance, but I have really struggled with consistency. I had plans to start the new year strong with brand new workouts, but then the flu struck. That was quite the setback.
So here I am again, not quite starting from scratch, but re-developing my routine. I taught a new workout to my group fitness class tonight. It felt so good to be doing something I love.
I also took some time before class to get in a bonus cardio burn. I alternated doing 10 Burpees with 100 High Knees, about 5 times, and it had me feeling great for class. Plus, I enjoyed the cardio challenge.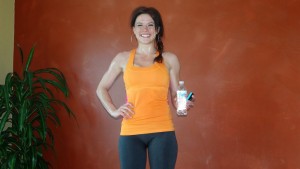 Remember, you don't need any equipment to get in an awesome workout. If you are up to it, you can repeat this workout up to 3X. You can add my bonus cardio burn if you're feeling extra feisty. It's important to push yourself, but it's equally important to listen to your body. You will progress your strength and fitness level, by learning when to push, and when to rest.
I am planning to start filming workouts for a new workout series this weekend. I'm super excited to share my new program with you.
Have fun with today's workout routine!
Melissa
PS You can find me on Social Media: @BenderFitness and on Facebook: @MelissaBenderFitness and Jesse is on Instagram: @BenderCrosby1 
For my non-fitness related posts I am on instagram as @Melissa_Bender_Life
PPS If you want to help support BenderFitness so we can stay free and make our site more sustainable your donation is greatly appreciated: https://www.patreon.com/BenderFitness
1. Frogger
2. Heel Tap Abs
3. Plank Knee to Elbow
4. Snow Angel V-Up
5. Heel Tap Plank
6. Temple Tap Abs
7. Mountain Climber
8. Hip Lift Hook
9. Shoulder Tap Pushups
10. Reverse Plank Leg Lift
11. Cross Donkey Kick
12. Single Leg Boat Kick
13. Plank Crunch Pushup
14. Side Plank Hip Lift (right)
15. Side Plank Hip Lift (left)
Repeat 1-3X
SaveSave