Hi Everyone!
I have a new workout for you today! This is a Total Body Exercise Routine. You do not need any equipment to complete this workout. This program incorporates exercises to strengthen your core, arms, shoulders, legs, and butt.
I also incorporated cardio bursts for an added fat burn during this workout. I completed the first five exercises as a warm-up, and then transitioned into the workout for the final eleven exercises. You can repeat this workout or go through it once.
I did one round of this routine. I also taught a yoga class a few hours before filming this workout. I'm not sure if it was the workout on it's own, or the combination of this plus yoga, but I really felt the burn!  It was a fun challenge, and I was covered in sweat by the end. My glutes are sore today, and I rarely ever get sore!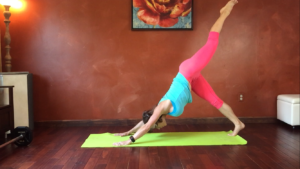 You may hear my son a few times during the workout. Hopefully it just adds to the home workout experience. We had some friends come over to watch/play with him while we filmed, but it was cold and rainy outside so they had to stay in the house.
Let me know what you thought of the exercises. Did you have a favorite move that you want to see make a comeback in future videos? Leave a comment and let me know!
Melissa
PS You can find me on Social Media: @BenderFitness and on Facebook: @MelissaBenderFitness and Jesse is on Instagram: @BenderCrosby1 
For my none fitness related posts I am on instagram as @Melissa_Bender_Life
PPS If you want to help support BenderFitness so we can get a new camera & new equipment & make our site more sustainable your donation is greatly appreciated: https://www.patreon.com/BenderFitness
*30-Seconds of Cardio Between Each Exercise*
Exercises 1-5 are a Warm-up. If you are already warmed up you can go higher intensity for each interval and cardio burst.
In/Out Squat
Knee to Elbow-Right
Knee to Elbow-Left
Low Impact Burpee
Butt Kicks
Elevator Plank-Right
Elevator Plank-Left
Angle Abs
Single Leg Hip Thrust-Right
Single Leg Hip Thrust-Left
Goddess Tuck Pulse
Walking Push-up
Side Plank Stretch-Rotating
Runner's Lunge Lift-Right
Runner's Lunge Lift-Left
March in Place
Repeat 1-3X
SaveSave
SaveSave
SaveSave