Hi Everyone!
It's workout time! I have a great combo workout series for you today. The first video is a 15-Minute Standing Workout focused on the Lower Body. The second video is a 5-Minute Arm and Back exercise routine. Pair the videos and you will have a great 20-Minute workout combo.
If you are looking for a longer workout routine you can always repeat the videos to increase the intensity.
Equipment: For the first routine all you need is a chair. For the second routine you need a chair and dumbbells. When selecting an appropriate weight you want to choose something heavy enough that you struggle on the last few reps, but you can maintain appropriate form. If you max out (can not physically do another rep) during an exercise it is not a bad thing. When you max out you improve your strength even faster.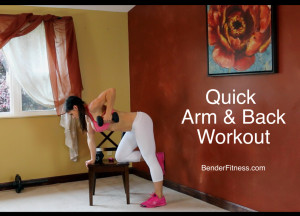 New Workout: I filmed a brand new workout yesterday. I still have to edit and upload the workout, but I will post it here as soon as I can. It should be on the agenda for tomorrow. You can find the sneak peek move video on my Instagram if you want a short preview into one of the exercises.
Have fun with the workout routines. Exercise is one of the best things you can do for your body and your health. Give yourself a pat on the back for doing something that is so fantastic for your body and your future.
Let me know what you thought of the exercises. Did you have a favorite move that you want to see make a comeback in future videos? Leave a comment and let me know!
Melissa
PS You can find me on Social Media: @BenderFitness and on Facebook: @MelissaBenderFitness and Jesse is on Instagram: @BenderCrosby1 
For my none fitness related posts I am on instagram as @Melissa_Bender_Life
PPS If you want to help support BenderFitness so we can get a new camera & new equipment & make our site more sustainable your donation is greatly appreciated: https://www.patreon.com/BenderFitness
Intervals: 15 Rounds of 10/50
Reps: Beginner: 10; Intermediate: 15; Advanced: 20
Step Up with Kick Back-Right
Step Up with Kick Back-Left
Side Step Up-Right
Side Step Up-Left
Split Squat-Right
Split Squat-Left
Half Moon-Right
Half Moon-Left
Leg Raise-Right
Leg Raise-Left
Standing Leg Circles-Right
Standing Leg Circles-Left
Standing Knee Circles-Right
Standing Knee Circles-Left
Sit to Stand-Alternating
Repeat 1-3X
Optional: Pair with 20-30 Minutes Cardio of Choice
*Scroll Down for Photo Tutorial of Each Exercise.*
Bicep Curl to Press
Row-Right
Row-Left
Arm Extension
Shoulder Press to Tricep Drop
Repeat 1-5X