Hi Everyone!
I hope that you are ready to workout today! This is a great workout for your entire body. I found this routine challenging. I only had time to go through it one time when I filmed it, but I am looking forward to repeating this workout. I found it challenging, and I got in a great burn.
Equipment: I use one dumbbell in this workout. I alternated between High Knees and Dumbbell Swings for my cardio bursts. You can easily use a kettle bell instead of a dumbbell if you decide to give the swings a try. You can also choose another form of cardio (High Knees, Burpees, Mountain Climbers, Jump Rope…the sky is the limit!)
#BFFitFall Workout Challenge: The challenge is to get your body moving at least 5X this week. I will update the weekly workout schedule as the new workouts are released. Feel free to add your own twist on the routines, by adding in walking or running to your daily workout.
Use the hashtags #BenderFitness and #BFFitFall on social media when you do your check in posts.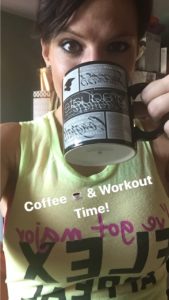 The month is almost coming to a close, but I have really enjoyed the momentum of this workout challenge. Has it helped you to stay consistent?
Have fun with this week's workouts! I love seeing your check-in posts and comments! Let me know how you feel and what you thought of the exercises and the schedule. I'd also love to hear which exercise you found the most challenging, and which one you liked the most.
Melissa
PS You can find me on Social Media: @BenderFitness and on Facebook: @MelissaBenderFitness and Jesse is on Instagram: @BenderCrosby1 
For my none fitness related posts I am on instagram as @Melissa_Bender_Life
PPS If you want to help support BenderFitness so we can get a new camera & new equipment & make our site more sustainable your donation is greatly appreciated: https://www.patreon.com/BenderFitness
Set Your Interval Timer for 10 Rounds of 10/30/10/50
*30-Seconds of Cardio Before Each Exercise*
Low Impact Burpee
Lunge to Hydrant-Right
Lunge to Hydrant-Left
Down Dog Cross Kick-Right
Down Dog Cross Kick-Left
Leg Drop Series
Reverse Plank Step Out
Angel Abs
Side Plank Foot Tap-Right
Side Plank Foot Tap-Left
Repeat 1-3X