Hi Everyone!
Welcome to Day 2 of this week's workout schedule! If you missed Day one don't worry! You can find it right HERE. Yesterday we had a 16-Minute Per Round Total Body HIIT Workout. Today we have a quick Legs & Core Workout.
One round of today's workout will take only 12-Minutes per round. I use a dumbbell for a couple of exercises in this workout. If you don't have equipment just grab something from around the house to add some resistance, or do the exercises with body weight. Focus on using good form and getting in your maximum number of reps during each interval. You can modify the workout as needed. As long as you are challenging yourself you are getting in a good workout. If it feels easy that's a sign that it's time to increase the intensity.
Tomorrow's workout is a Cardio HIIT Routine. You can find it here (if you just can't wait!): Cardio HIIT (Full Length).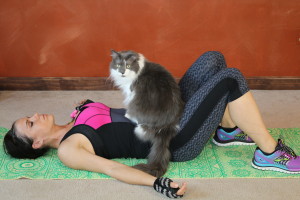 My new DietBet Challenge starts on Wednesday May 17th. If you want a chance to win money for losing weight sign up for the challenge. Everyone who loses 4% of their body weight over the course of 4 weeks will win a portion of the jackpot. You can sign up at www.dietbet.com/BenderFitness. 
I am still taking it easy after my Half Marathon on Sunday. I mentioned on Instagram/Facebook that I took a tumble during the race- darned potholes!– and my knees and elbows are pretty sore from the impact. Gentle stretching and foam rolling are my focus right now. Part of living a healthy lifestyle is resting when you need too. My knees are so sore I didn't even want to go walking today! They are bruised and I have a few scrapes, but I can tell that I am already on the mend.
See you soon with some new workout videos & blog posts. If you have any questions you want to see me answer please let me know in the comments below.
Have fun with today's workout!
Melissa
PS You can find me on Social Media: @BenderFitness and on Facebook: @MelissaBenderFitness and Jesse is on Instagram: @BenderCrosby1
PPS If you want to help support BenderFitness so we can get a new camera & new equipment & make our site more sustainable your donation is greatly appreciated: https://www.patreon.com/BenderFitness. 
https://www.benderfitness.com/2015/04/12-minute-legs-core-workout.html
Equipment: Buy a Gymboss now. Interval Timer & Dumbbell. 
Curtsy Lunge with Calf Raise-Right
Curtsy Lunge with Calf Raise-Left
Lunge Kick-Right
Lunge Kick-Left
Glute Bridge to Calf Raise
Lunge Jump Twist
Walk the Plank Pushup
Angel Abs
Toe Touch Plank Reach-Right
Toe Touch Plank Reach-Left
Camel Reach
Dive Bomber
Repeat 1-4X