Hi Everyone!
It's workout time! Today's workout will take 15-Minutes per round. You can go through it once, or you can repeat it for a longer/more intense workout. You don't need any equipment. Just grab some water, make some space and challenge yourself to get in your maximum number of reps during each interval.
If you follow me on social media you know that I started a 15 Day 30-burpee per day challenge on Wednesday (my birthday!) I am doing check-ins on Instagram and Facebook. If you are just joining in don't worry! You will be a few days behind, but that's okay. Start now! Today will be Day 5 for me. Last night I didn't get to my Burpees until very late in the evening, so I did them in jeans. I didn't want to get changed into workout clothes just to do my burpees and take a shower. I chose not to let excuses stop me from getting them in. You can break them up, do them continuously, whatever works best for you!
I am already starting to feel stronger and more defined. If I had to choose one exercise for efficiency it would be the Burpee. It's a fantastic full body challenge, and you still get in a cardiovascular workout. People ask me all the time if I am doing secret workout for my arms, and the answer is no. I do the workouts you see here and I run. I don't sneak off to the gym when no one is looking. What you see on this website is what I have done to get in shape and stay in shape.
It doesn't matter where you are in your health journey, remember to respect what your body is capable of. I am almost 9-months postpartum now, and I am feeling just as strong and healthy as I did pre-baby and throughout my pregnancy. During my pregnancy I didn't know what to expect, as far as physical changes. I made a conscious effort to be appreciative of what my body was capable of during each stage of my pregnancy, and afterwards.
I believe that being mentally healthy, including with your self-image, is just as important as being physically healthy. Give yourself a pat on the back for showing up today, and getting in your workout. Showing up for your workout is you making an active decision to improve your health and physical fitness.
As always, thank you for showing up and working out with me!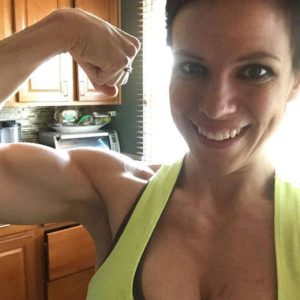 I hope you enjoy today's workout! Let me know what you think!
Melissa
PS You can find me on Social Media: @BenderFitness and on Facebook: @MelissaBenderFitness and Jesse is on Instagram: @BenderCrosby1
PPS If you want to help support BenderFitness so we can get a new camera & new equipment & make our site more sustainable your donation is greatly appreciated: https://www.patreon.com/BenderFitness. 
Equipment: Interval Timer: Buy a Gymboss now. Set for 15 rounds of 10/50. 
1. Sumo Squat Tap (right)
2. Sumo Squat Tap (left)
3. High Knees
4. Jump Kick (right)
5. Jump Kick (left)
6. High Knees
7. Mountain Climber Pushups
8. Table Top
9. High Knees
10. Russian Twist
11. Alternating Hip Thrust
12. High Knees
13. Hi-Low Table Kicks (right)
14. Hi-Low Table Kicks (left)
15. High Knees

Repeat 1-3X