Hi Everyone!
It's workout time again! Today's workout is focused on strengthening your core muscles, and your glutes. This routine focuses on utilizing your muscles in multiple planes of movement to maximize the muscles being recruited. Focus on using proper form and range of motion for each exercise. You don't need any equipment for this workout, and you can repeat it up to 3X. If you only have time to get it done once that's fine too!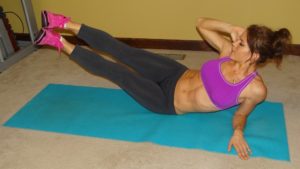 Remember, you will be more consistent with your workouts if you figure out what is most realistic for your schedule. Grand plans and fitness goals are often ruined by unrealistic expectations. Sure, you can have longer workout days, but if your schedule doesn't allow for it you will feel like you are failing. Having an 8-month old baby has really re-emphasized to me the benefit of having short convinent workouts.
I struggle to get in my workouts much more than I used to. Before I could get in my workout late at night if I had to, but with a sleeping baby I am less likely to risk waking him up. Of course there are always quiet workout options. I have a great series of Low Impact workouts and Yoga workouts, so there is always a way to fit it in.
I am still going strong with my #30BurpeeChallenge. If you are following me on Social Media, I am doing daily check-in posts for the challenge. I am feeling stronger already. Burpees are such a great full body exercise. I know it's the exercise many people love to hate, but it has so many benefits for your health, strength and fitness.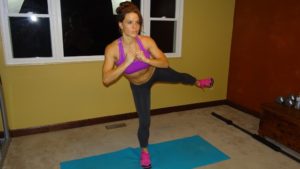 Running Update: I ran 4.5 miles yesterday during the Jogging Course that I teach. I still don't feel like I am completely back on track with my Half Marathon training, but I am getting there. The Pittsburgh Half Marathon is just over a month away.
We can't seem to shake the colds/flus this season. It has really thrown of my workout schedule, as well as making me feel very run down. Normally we stay relatively healthy (other than allergies), but Jesse was sick, my cold returned, and now my son is sick. He just had a double ear/eye infection a week and a half ago. Now he has a cough and runny nose. It is so heart breaking to see my baby sick.
I hope you enjoy today's workout! Let me know what you think!
Melissa
PS You can find me on Social Media: @BenderFitness and on Facebook: @MelissaBenderFitness and Jesse is on Instagram: @BenderCrosby1
PPS If you want to help support BenderFitness so we can get a new camera & new equipment & make our site more sustainable your donation is greatly appreciated: https://www.patreon.com/BenderFitness. 
Beginner: 10 reps
Intermediate: 15 reps
Advanced: 20 reps

1. Plank Jacks
2. Side V-Up/Hip Lift
3. Side V-Up/Hip Lift
4. Side Kick Stand (right)
5. Side Kick Stand (left)
6. Bow Heel Press
7. Heel Tap Abs
8. Plank Cross Pulse (right)
9. Plank Cross Pulse (left)
10. Temple Tap Abs
Repeat 1-3X