Hi Everyone!
It's workout time again! Today's workout is focused on toning and sculpting your mid-section. The abdominals need to be worked from every angle to recruit all of the superficial and deep ab muscles. This workout is low impact, but very efficient. Don't let the words low impact fool you into thinking you aren't going to get in a good workout. You can repeat today's workout 1-3X or pair it with another workout if you are looking for something more intense.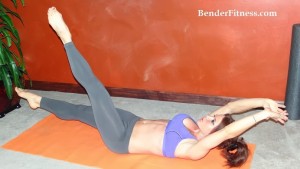 Yesterday we did a Full Body 30-Minute HIIT Fat Burning Workout. If you didn't try it yet, I definitely recommend it. It's a workout Jesse and I filmed together. Usually one of us is behind the camera, and the other one is on camera, so it was a special occasion to have both of us filming together.
I am still not 100% after my fight with the flu. I am finally seeing some improvements though! This is a nasty little bug, that I just can't seem to kick out. I have a Half Marathon coming up the first weekend of May, and I am getting nervous about missing so much training. I haven't been able to do anything.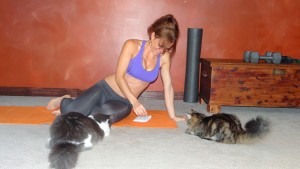 I have been reminding myself that exercise is supposed to make you healthier. When you do it at the wrong times (when you are very sick or injured) it is not helping to make you healthier. That reminder allows me to step back and take the time to rest, instead of pushing myself before my body is ready. Pushing myself now would not lead to any improvements in my Half Marathon time, or my overall wellness.
Your body is the one place you are guaranteed to live for the rest of your life. The choices you make with food, exercise, rest…they impact your health now and in the future. Please try to make healthy choices for yourself. Even when it's hard to stick to the healthy choices (like skipping a workout when you want to jump back in).
Today I am going to do some gentle stretching and foam rolling. I am teaching my jogging class this afternoon. Normally, Wednesday is reserved for a group HIIT cross training, or else I run with my students, but today I am going to continue to rest.
I hope that you enjoy today's workout! Let me know what you think of the workout! See you soon!
Melissa
PS You can find me on Social Media: @BenderFitness and on Facebook: @MelissaBenderFitness and Jesse is on Instagram: @BenderCrosby1
PPS If you want to help support BenderFitness so we can get a new camera & new equipment & make our site more sustainable your donation is greatly appreciated: https://www.patreon.com/BenderFitness. 
Beginner: 10 reps
Intermediate: 15 reps
Advanced: 20 reps

or

–Buy a Gymboss now. HIIT: 50 seconds max reps, 10 seconds of rest between exercises. 

1. Leg Circle (right)
2. Leg Circle (left)
3. Rock the Boat
4. Side Crunch Toe Touch (right)
5. Side Crunch Toe Touch (left)
6. 3 Part Abs
7. Bicycle
8. Boat Scissor Twist
9. Super Swimmer
10. Tick Tock Abs

Repeat 1-3X