Hi Everyone!
It's workout time! Today we are focused on the Lower Body. For this workout grab a pair of dumbbells and a chair. If you don't have dumbbells grab some water bottles, or something you can use to add some resistance to your workout. You can also choose to do the exercises with Body Weight only, but the added resistance will help increase the efficacy of today's workout.
The movements that I selected utilize several exercises that will maximize the activation of the muscles of your lower body during each movement. By isolating the right and left let we are increasing the challenge, and helping the body to find balance. Just as we are Right or Left handed, we have a dominant leg. When you work one leg at a time it helps you to find balance and keep the stronger side from compensating or sharing part of the load.
In addition to the workout below, I also posted a video for a bonus workout challenge move. Scroll down past the photo tutorial below to see the video demonstration, or follow along with the photo tutorial: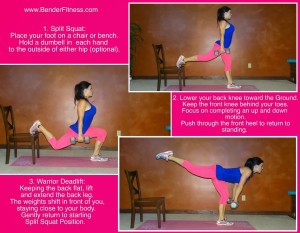 Yesterday I took an active rest day. We took Maverick to the zoo for the first time. If you are sore and need an active rest day before tackling today's lower body workout you can do this yoga workout: https://www.benderfitness.com/2015/11/20-minute-yoga-flow-stretch-2.html.
My active rest day consisted of a lot of walking. We visited the Zoo and Aquarium, and Maverick loved it. He got to see a Polar Bear jump up right in front of him, and do a back flip in the water.
I mentioned earlier this week that I signed up for a Half Marathon the first weekend in May. I will do an update post on my weekly runs so I can share with you guys what my schedule has looked like. We are going to have a high of 76 degrees Fahrenheit, which is unheard of in Pittsburgh in February, so I will definitely be running outdoors today!
Have fun with today's workout and let me know how it goes!
Melissa
PS You can find me on Social Media: @BenderFitness and on Facebook: @MelissaBenderFitness and Jesse is on Instagram: @BenderCrosby1 Maverick on Instagram: MaverickBender
PPS If you want to help support BenderFitness so we can get a new camera & new equipment & make our site more sustainable your donation is greatly appreciated: https://www.patreon.com/BenderFitness. 
Interval Timer: 10 Rounds of 30/50.
*30 Second Cardio Intervals Between Each Exercise: Lunge Jump/Jump Squat
Sit to Stand (Right)
Sit to Stand (Left)
Split Squat (Right)
Split Squat (Left)
Elevated Runners Lunge (Right)
Elevated Runners Lunge (Left)
Single Leg Toe Tap Step Up (Right)
Single Leg Toe Tap Step Up (Left)
Elevated Glute Bridge (Right)
Elevated Glute Bridge (Left)
Repeat 1-3X.
The challenge goal for today is to get in Reps of this exercise per leg. I will be posting my video on Instagram: @BenderFitness & a daily video on Instagram of each challenge move.
Beginner: 5-10 Reps Per Leg
Intermediate: 10-15 Reps Per Leg
Advanced: 15-20 Reps Per Leg