Hi Everyone!
Welcome to Day 8 of my 30-Day Challenge! Today's workout is a Standing Workout. It's focused on your glutes and thighs. This routine will strengthen and sculpt your lower body, and utilize all of the muscles you need for strengthening and shaping.
This workout is done completely in standing, so you don't have to get down on the floor or on a mat. If you have problems with balance during some of the exercise you can use a chair or the wall to steady yourself.
If you are looking for last week's workouts you can find them here: Original 30-Day Challenge: Days 1-7. Keep yourself accountable by tracking your workouts. When you write down or keep photos you can easily see which days you worked out. That will help you stay on track.
If you miss a workout don't let it throw you off track. Get back into the groove, and get back to exercising. You can always get your routine back on track. It takes effort, but you can do it.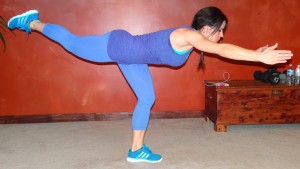 I am feeling great since starting the challenge. Keep checking in with comments and social media posts to let me know how you are doing with the challenge.
Starting February 1st I am hosting a new DietBet Challenge. It's a weight loss challenge, where you place a bet and win money for losing weight. If you want to sign up you can do so here: www.dietbet.com/BenderFitness
Melissa
PS You can find me on Social Media: @BenderFitness and on Facebook: @MelissaBenderFitness and Jesse is on Instagram: @BenderCrosby1 
PPS If you want to help support BenderFitness so we can get a new camera & new equipment & make our site more sustainable your donation is greatly appreciated: https://www.patreon.com/BenderFitness
50/10 Intervals. Max reps during each 50 second interval, 10 seconds of rest between exercises.

1. Squat and Squeeze
2. Grand Plie
3. Warrior 3 Leg Lift (right)
4. Warrior 3 Leg Lift (left)
5. Leg Abduction (right)
6. Leg Abduction (left)
7. Lunge Kick (right)
8. Lunge Kick (left)
9. Flamingo Extension (right)
10. Flamingo Extension (left)
11. Forward Fold Lift
12. Sumo Squat
13. Curtsy Lunge Kick (right)
14. Curtsy Lunge Kick (left)
15. Goddess Reach
Repeat 1-3X