Hi Everyone!
I have a great workout for you today! Are you ready? This is a 15-minute per round Cardio HIIT Fat Burning Workout. You don't need any equipment.
We are now on Day 9 of my Original 30-Day Workout Challenge. I have to confess that I didn't get my workout in yesterday. I will be stacking yesterday's Standing: Buns & Thighs Workout with today's workout.
My dad came out for a visit, so I spent the day with family. Technically, I could have made time for the workout last night. We have had house guests for more than two weeks, so I just wanted to spend time with Jesse. I did some random lunges/squats, and had mini races with my 3-year old niece just to get in some activity during the day, but no formal workout.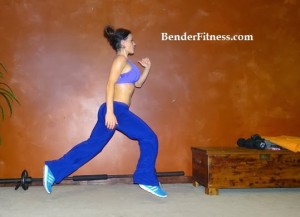 Remember, even if you miss a workout you can get right back on track. This is more than a 30-day challenge. We are building a healthy lifestyle. We are reminding ourselves that we can make time for our health. We can fit in a 15-minute workout. If you miss one (or more than one) we just get back on track and keep going. That's what this lifestyle thing is all about.
How do you keep yourself accountable? How do you stay on track? If you have any tricks or techniques to staying consistent let me know in the comments below.
I am working on sharing more recipes with you. I just need to make the time to type them up (if you have secrets for making more time in your day you can post those below too!) We are transitioning to an Anti-Inflammatory diet, and severely limiting dairy. I am lactose intolerant. I can handle only very small amounts, but I have trouble cutting myself off before I hit that limit. What can I say? I love cheese. I find it very rude that cheese doesn't love me back. 😉
I will write more about the Anti-Inflammatory Diet and some of the changes we are making. If you have any questions about it let me know, and I will try to answer them in my blog post.
Melissa
PS You can find me on Social Media: @BenderFitness and on Facebook: @MelissaBenderFitness and Jesse is on Instagram: @BenderCrosby1 
PPS If you want to help support BenderFitness so we can get a new camera & new equipment & make our site more sustainable your donation is greatly appreciated: https://www.patreon.com/BenderFitness
50/10 Intervals. 50 seconds max reps, 10 seconds rest between exercises. 

1. High Knees
2. Burpee
3. Jump Kick (right)
4. Jump Kick (left)
5. Russian Kicks
6. Squat Jump
7. Mountain Climber
8. Lunge Hop (right)
9. Lunge Hop (left)
10. High Knees Tap
11. Frogger
12. Heel Tap Squat Jump
13. Plank Jack
14. Pop Up
15. Low Jack