Hi Everyone!
Welcome to Day 4 of my 30-Day Workout Challenge! Yesterday was focused on the core. Today we are focused on the Arms and legs. Grab dumbbells and get ready to workout. I also utilized a barbell, but you can substitute dumbbells for all of the exercises if that is what you have.
I completed this workout for Reps instead of time. If you prefer to challenge yourself for time you can set your interval timer for 12 Rounds of 10/50. You will take 10 seconds of rest, and 50 seconds for maximum repetitions. Whichever technique you choose be sure to focus on proper form and range of motion for each exercise.
I used 20-lb dumbbells and 75-lb barbell for this workout. Choose an amount of weight that challenges you. The last two exercises in each set should be difficult, but you should still be able to complete them with proper form. If your weights are not challenging you as much you can increase the number of reps.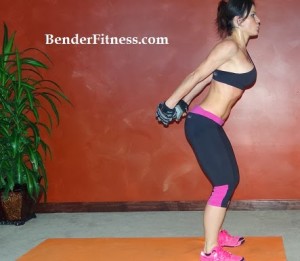 Be sure to warm-up before the workout, and do a stretching cool down after the workout. I am still working on my daily Splits stretching.
My head cold got a lot worse yesterday, and I spiked a small fever so I skipped yesterday's workout. I will be pairing today's workout and yesterday's workout today. I made homemade chicken soup, and I am feeling so much better today!
I hope you enjoy today's workout combo!
Melissa
PS You can find me on Social Media: @BenderFitness and on Facebook: @MelissaBenderFitness and Jesse is on Instagram: @BenderCrosby1 
PPS If you want to help support BenderFitness so we can get a new camera & new equipment & make our site more sustainable your donation is greatly appreciated: https://www.patreon.com/BenderFitness
Warm up:
Workout:
Help BenderFitness: https://www.patreon.com/BenderFitness
Reps: Aim for between 10-15 Reps with good form. Reps can be increased to 20 if you are using less weight, and don't feel challenged enough.
Time: 12 Rounds of 10/50.
1. Curl (right)
2. Curl (left)
3. Plank Row (right)
4. Plank Row (left)
5. Tricep Extension
6. Squat and Press
7. Deadlift
8. Squat
9. Warrior Deadlift (right)
10. Warrior Deadlift (left)
11. Side Lunge (right)
12. Side Lunge (left)
Repeat 1-3X.