Hi Everyone!
Welcome to Day 22 of my Original #30DayWorkoutChallenge! Let's start the week off right with a great 15-Minute Cardio HIIT. You don't need any equipment for this one! Grab some water and get to your workout!
Support your workouts by making healthy food choices this week. Your food is fuel for your body. It will directly impact your energy and stamina. Jesse and I have been focusing on eating anti-inflammatory foods, and we both feel so much better. I am writing an article about the guidelines for an anti-inflammatory diet to go with my February challenge. I have several recipes that I want to share as well. I plan on posting more Instagram Live updates with food prep and meals. If you aren't following me on Instagram you can find me @BenderFitness and Jesse @BenderCrosby1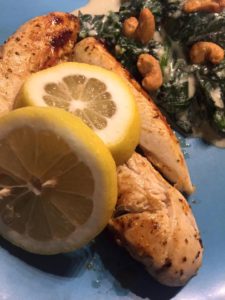 I started filming workouts for my Brand New February DietBet Challenge. If one of your goals is weight loss and you want to win money for losing weight you can sign up for my DietBet Challenge here: www.dietbet.com/benderfitness. It starts February 1st, but you can sign up anytime between now and then.
I am really excited for the upcoming challenge! Let me know how you are doing with this month's challenge! Don't forget to stretch after today's workout! I am still focusing on flexibility, although it feels like the changes are happening verrrrrryyyyy slowly. Slow and consistent is what it takes for progress.
Have fun with today's workout!
Melissa
PS You can find me on Social Media: @BenderFitness and on Facebook: @MelissaBenderFitness and Jesse is on Instagram: @BenderCrosby1 
PPS If you want to help support BenderFitness so we can get a new camera & new equipment & make our site more sustainable your donation is greatly appreciated: https://www.patreon.com/BenderFitness
10/50: 10 Seconds Rest, 50 Seconds Max Reps
Get your own interval timer: Buy a Gymboss now.

1. High Knees
2. Jump Squat
3. Russian Kicks
4. Frogger
5. Mountain Climbers
6. Toe Tap High Knees
7. Side Lunge Jump
8. Lunge Kick (right)
9. Lunge Kick (left)
10. Surfer
11. Mountain Runner
12. Plie Jump
13. Burpee
14. Lunge Jump
15. High Knees
Repeat up to 3X