Hi Everyone!
It's workout time again! Today's workout is only 15-Minutes per round. The only equipment I used was a chair and a yoga mat. If you don't have a chair, you can do the exercises from the ground. Remember, there is always a way to modify your workout. I want you to challenge yourself during today's workout. Go for maximum repetitions, but don't sacrifice form for speed. Good form doesn't just maximize your results, it also keeps you safe and helps prevent injury.
Yesterday I did my BodyRock Mom workout Live on Facebook. I also posted that video below. It's 12-Minutes long, and I found it very challenging! I used a weighted vest and a balance trainer (Bosu), but you can also do the exercises with body weight only. I found that adding the equipment definitely increased the challenge for me. Although my BodyRock Mom workout is a full body routine, you will definitely feel it working your core. I incorporated fat burning movements throughout the routine.
Jesse also filmed a workout last night. The new workout with Jesse won't be up until tomorrow, because I still need to edit it. It will be up early-sometime this afternoon or evening- for anyone who supports us on Patreon (one of our ways of saying Thank You!)
I mentioned yesterday that we did some meal prepping on Sunday, and cooked a lot of chicken to use in meals this week. It definitely made yesterday evening a lot smoother. The chicken was already cooked so I was easily able to steam some veggies to go along with our meal for a quick, but delicious dinner.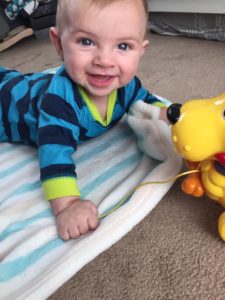 Maverick had his 4-Month check up at the doctor. He is growing so quickly! He is in the 91% for height, and 75th percentile for weight. He is such a joy. He weighs over 17 pounds now, so I feel like I am always getting a bonus workout when I carry him around and play with him. I am going to try and film a new workout during his nap time today, so be sure to check back for that. Jesse's new 20-Minute HIIT workout will be up tomorrow.
See you soon!
I hope you enjoy today's workout!
Melissa
PS You can find me on Social Media: @BenderFitness and on Facebook: @MelissaBenderFitness and Jesse is on Instagram: @BenderCrosby1
PPS If you want to help support BenderFitness so we can get a new camera & new equipment & make our site more sustainable your donation is greatly appreciated: https://www.patreon.com/BenderFitness
Set your Interval Timer for 15 Rounds of 10/50.
Squat Jump
High Knees
Low Jack
Side Plank Reach-Right
Side Plank Reach-Left
Single Arm Burpee
Sumo Squat Twist-Right
Sumo Squat Twist-Left
Curtsy Lunge
Dips
Decline Shoulder Tap Pushup
Reverse Plank Leg Lift
Low Jack
High Knees
Squat Jump
Repeat 1-4X