Good Morning Everyone!
I hope you are ready for another workout! I posted two workout options below for you. The first is a 20-Minute Full Body No Equipment Workout. I actually filmed that one when I was about 13-weeks pregnant! It's a great full body workout though, just be sure to push through it. I was pacing myself during the workout to be sure I didn't over do it.
The second video is the Stability Ball: Butt & Belly workout I posted last week. I really liked that one, and it actually made my core a little bit sore so I know I was hitting some muscles in there that needed the work. You can choose one, or pair them together for today's workout.
Our Workout Week so Far:
Workout 1: 15 Minute Plyo HIIT Workout: Burn Fat Fast 
Workout 2: Standing Workout: Full Body Workout with Dumbbells or 30-Minutes Cardio of Choice
As you guys know, Maverick has had his first cold, so I haven't been filming new workouts for the past few days. He is feeling much better so we will be filming today. In fact, Jesse and I are filming a workout together this evening! It will be fun to have both of us in front of the camera and working out with you.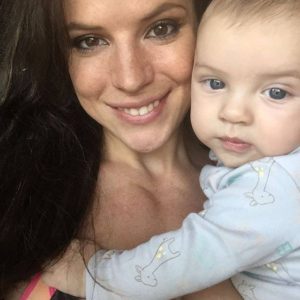 Yesterday I wasn't able to do a full, formal workout because I was taking care of the baby. I challenged myself to get in more general activity/steps per hour throughout the day. I also did 10 Warrior Deadlifts per leg with two 20-pound dumbbells, and 10 Romanian Deadlifts with my barbell (75 pounds total) and I got in a run. Jesse cooked dinner and took care of the baby so I could get on the treadmill. I ran 4-Miles, and it felt amazing! I have only been running with the stroller, in our insanely hilly neighborhood, so it felt good to let my legs move a little bit faster.
I originally planned to do the whole run as a steady state cardio at 8:30, thinking that would be challenging enough for me because I have been averaging between 9:30 and 10:05 minute/mile pace on my runs with the baby. I was pleasantly surprised to find that the 8:30 pace (7.0 speed on the treadmill) felt easy. I progressed my paces during the run, worked up a great sweat, and felt fantastic the whole time. It's amazing how much I love running now. When I first started I despised it, and stuck through it out of pure stubbornness only.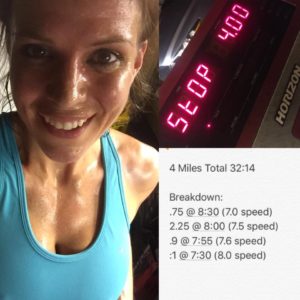 The run was 4-miles total, and I progressed the speed on my treadmill from 7.0 to 8.0 by the end of the run. So the speed ranged from 8:30 min/mile to 7:30 min/mile. The whole run took me 32 minutes and 14 seconds.
I also have good news on the Patreon front! I mentioned the other day that my entire page was accidentally deleted and all pledges were deleted. It looks like they were able to restore the pledges that were previously made to help support BenderFitness and get us new equipment. If you want to help (even $1 per month helps! If everyone who used BenderFitness contributed $1/month we would be able to dedicate ourselves to blogging full time, plus have a great filming team) you can do so here: https://www.patreon.com/BenderFitness.
I hope you enjoy today's workout!
Melissa
PS You can find me on Social Media: @BenderFitness and on Facebook: @MelissaBenderFitness and Jesse is on Instagram: @BenderCrosby1
Set Your Interval Timer for 15 Rounds of 30/50.
30-Seconds Cardio (High Knees or Cardio of Choice) Between Each Exercise
Surfer
Hip Thrust-Right
Hip Thrust-Left
Side Lunge Punch
Mountain Climbers
Leg/Hip Lift
Angel Abs
Plank Knee Sweep-Right
Plank Knee Sweep-Left
Burpee
Lunge Hop-Right
Lunge Hop-Left
Warrior III-Right
Warrior III-Left
Sumo Pushup
Repeat 1-3X
Optional: Pair with 30-Minutes of Cardio
Equipment: –Buy a Gymboss now. 
Help BenderFitness Get a New Camera: https://www.patreon.com/BenderFitness
1. Ball Pull
2. Hip Lift
3. Elbow Pull
4. Prone Butt Lift Press
5. Butt Pull
6. Ball Pass
7. Ball Twist
8. Tick Tock Abs
9. Situp Stretch
10. Butt Lift
Repeat 1-3X