Hi Everyone!
It was a busy day in the Bender Household today. I filmed a quick 5-Minute Warm-up video and today's 20-Minute Core & Cardio Fat Burn HIIT workout. I did my 10-Sun Salutations for the Day (a challenge I have set for myself every day this month). I also took Maverick on a 5K walk while Jesse got in his run for the day. The weather was stunning: sunny and warm.
Today's workout has alternating 5-Minute intervals or Core workout and Cardio Fat Burning. The only equipment I used in this video was a jump rope, but you can do rope less jumping if you don't have one. I posted the workout, warm-up and Sun Salutation videos below. I only went through the workout 1X today, but you can repeat it up to 3X.
I have seen a few comments on youtube complaining about our camera quality. We are still filming on our iPhones since our camera broke, so if you want to help support BenderFitness so we can get a new camera we would greatly appreciate your donation here: https://www.patreon.com/BenderFitness. If you haven't read about the changes to BenderFitness please check out this article: 5 Years of BenderFitness & Upcoming Changes to BenderFitness. 
I introduced my son to Dr. Seuss' books today. He LOVED "Green Eggs & Ham. He liked "The Cat in the Hat" too, but not as much as hearing about Sam I am. Part of a healthy lifestyle also means spending quality time with your loved ones. I love reading time with my son. Hopefully he grows up to enjoy reading as much as I do.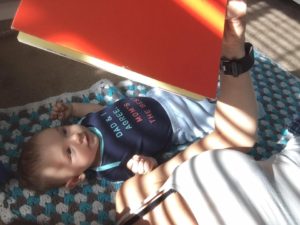 Thank you all for your continued support and for sharing this fitness journey with us!
Melissa
PS You can find me on Instagram, Snapchat, Pinterest & Twitter: @BenderFitness and on Facebook: @MelissaBenderFitness
Jesse is on Instagram: @BenderCrosby1
Quick Dynamic Warm-Up:
Buy a Gymboss now. Timer Set for 5 Rounds of 10/50.

Marching High Knees
Jumping Jacks
Squats
Leg Swings-Right
Leg Swings-Left
Buy a Gymboss now. Timer Set for 5 Rounds of 10/50.
Help BenderFitness Get a New Camera: https://www.patreon.com/BenderFitness.
*Each Section will take 5 minutes. You can pause the video and grab some water in between sections. *
Section 1: Core Sculpt 1
Sumo Plank Jack
Temple Tap Abs
Crunch & Tap
Leg Series-Right
Leg Series-Left
Section 2: Jump Rope Cardio Burn
Jump Rope
High Kness Jump Rope
Jump Rope
High Knees Jump Rope
Jump Rope
Section 3: Core Sculpt 2
Down Dog Hop-Right
Down Dog Hop-Left
Side Plank Leg Lift-Right
Side Plank Leg Lift-Left
Reverse Plank Leg Lift
Section 4: Cardio Fat Burn
High Knees
Burpees
High Knees
Burpees
High Knees
Repeat this workout 1-3X