Hi Everyone!
Today's workout is a Full Body HIIT Fat Burning Workout. Are you ready to make yourself stronger and develop more endurance? Let's work up a sweat!
Week 4 Workout Schedule:
Lower Body Sculpt & Fat Blast: 20 Minutes Per Round + 30-Minutes of Easy Cardio
Tighter Tummy Workout + Moderate Intensity Cardio
Rest Day
Arms & Upper Body + 30-Minutes of Easy Cardio
Full Body Workout + Easy Cardio
I recommend pairing this workout with 30-Minutes of Cardio of choice. I have a throwback workout posted below, because I ran out of time to film. We spent the morning at Jesse's cousin's cross country race, and they had a family day celebration afterwards. We didn't get home until much later than anticipated.
I did however, have the opportunity to go for a run without the stroller. I took it, and I am slowly but surely building my running speed back up. We live in an extremely hilly area, so I was very happy with my paces during my run. More importantly, I felt fantastic. I felt stronger, less fatigued, and it felt great to work up a sweat and just go.
I did my run at a moderate effort (not full out, I could still talk, but it was definitely a working pace). With today's workout I am recommending easy paced cardio. I did a more intense cardio because I wasn't able to fit in the planned workout.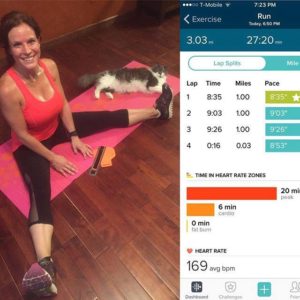 I hope you all enjoy the workout! Have fun!
Melissa
Buy a Gymboss now. 50/10 Intervals. 50 seconds max reps, 10 seconds rest between exercises. 

1. High Knees
2. Burpee
3. Jump Kick (right)
4. Jump Kick (left)
5. Russian Kicks
6. Squat Jump
7. Mountain Climber
8. Lunge Hop (right)
9. Lunge Hop (left)
10. High Knees Tap
11. Frogger
12. Heel Tap Squat Jump
13. Plank Jack
14. Pop Up
15. Low Jack
Repeat 1-3X
Pair with 30 Minutes of Cardio