Good Morning Everyone!
I posted two workouts below, so be sure to scroll down and get in both.
The first workout is done for Reps, and the second workout is done for Time. I like mixing up the challenge, because you use your muscles differently when you include both techniques. The first workout is a throwback from 2012! I filmed this workout the same day I ran an AM 5K. My 5K time on that day was 23:55. I always find the course I did that day challenging (perhaps because the race occurs in mid-July and it is always humid, or maybe because the first half is a long incline).
I don't know when Baby Bender is going to be coming (he is due June 29th, but for some reason I think he will be born the first week of July), but if I do the same race this year I will most likely be walking the course.
The second workout is a great, quick Core & Arm HIIT that only takes 10-Minutes per round. You get to do this workout with Jesse, which is always fun! He is very entertaining and motivating throughout. Our Boot Camp classes always love him.
Let me know if you are trying both workouts or doing one today, and saving the second one for tomorrow.
The first workout I posted this week is: 40-Minute Full Body Workout: Fat Burning Body Shaping Home Workout. If you haven't tried it yet, check it out!
Have fun!
Melissa
PS: You can find me on Instagram & Twitter: @BenderFitness and on Facebook: www.facebook.com/MelissaBenderFitness.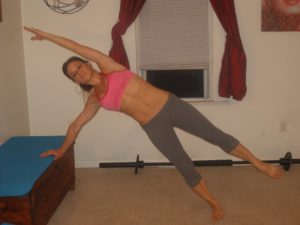 Beginner: 10 reps
Intermediate: 15 reps
Advanced: 20 reps
1. Curtsy Lunge (alternating sides)
2. Leg Series (right)
3. Leg Series (left)
4. Incline Plank Crunch (right)
5. Incline Plank Crunch (left)
6. Toe Touch Situps
7. Side Plank Inner Leg Lift (right)
8. Side Plank Inner Leg Lift (left)
9. Quadruped Leg Series (right)
10. Quadruped Leg Series (left)
11. Walking Squat
Repeat 1-3X
Click the link to get your own Gymboss Interval Timer!

Equipment: Dumbbell and Interval Timer.
1. Burpee
2. Twisting V-Up
3. Walk the Plank
4. Russian Twist
5. Superman Push-up
6. Oblique Drops (right)
7. Oblique Drops (left)
8. Frogger Push-up
9. Side Plank Hip Drop with Leg Lift (right)
10. Side Plank Hip Drop with Leg Lift (left)
Repeat 1-3X
Burpee Jump
Twisting V-Up
Walk the Plank
Russian Twist
Superman Pushup (Part 1) 
Superman Pushup (Part 2)
Oblique Drop 
Frogger Pushup
Side Plank Hip Drop with Leg Lift