Hi Everyone!
It's time for another workout! Today's workout will get your heart rate up and have you working up a sweat. I did this one for repetitions. If you prefer intervals, check out the moves in the video and then set your timer for 12 Rounds of 10/50 and go for maximum reps.
In one exercise I use my bench to jump up onto. If you don't have anything sturdy to jump on, you can substitute a regular squat jump. It is going to be back to back with a Squat Jump with Heel Tap. You will definitely feel the burn. Rest if you need to, but aim to get in as many jumps as you can.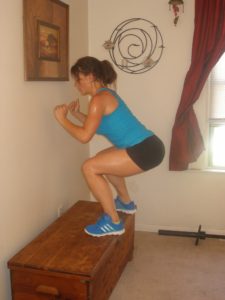 During any jumping exercise be sure to land with a slight bend in your knees. This helps prevent jarring and protects your knee joint. If the jumps are to intense, you can substitute a stand and squeeze at the top of your squat. Always listen to your body. Don't be afraid to challenge yourself with harder variations, but be aware that it's okay to modify if you need to!
Have fun today!
Melissa
Beginner: 10 reps
Intermediate: 15 reps
Advanced: 20 reps
1. Jumping Jacks
2. Lunge Kick (right)
3. Lunge Kick (left)
4. Jump Up (or Regular Jump Squat)
5. Jump Squat with Heel Tap
6. Reverse Crunch
7. V-Up Toe Reach
8. Rocking Reach Through
9. Supergirl Pushups
10. Round Kick (right)
11. Round Kick (left)
12. Mountain Climber (100)
Repeat 1-3X