Good Morning Everyone!
It's time for another workout! This workout only takes 10-Minutes Per Round. So you can pair with another workout, or repeat it to get in a more intense workout. You can also vary the workout to alternate Reps and Cardio. I filmed the workout HIIT style, but you can always aim for getting in Repetitions instead. I like to alternate both, because each style of workout challenges you differently.
Yesterday I posted a Birthday Burpee Challenge. If you haven't tried it yet, I challenge you to add it to today's workout! I turned 33 years old yesterday, and I challenge you to add 33 Burpees to your workout. I didn't do it yesterday, but I will be doing it today.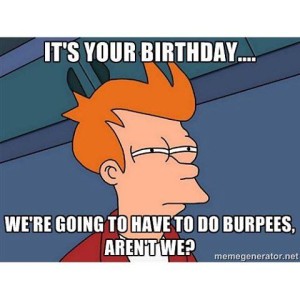 I also posted a workout yesterday: Full Body Sweat: Home Workout. If you haven't tried it yet, check it out.
Let me know what you think of today's workout! Check in with me on Instagram and Twitter: @BenderFitness or on Facebook: www.facebook.com/MelissaBenderFitness.
Have fun!
Melissa
Equipment: Gymboss Interval Timer set for 10 rounds of 10/50.
or
Reps:
Level 1: 10 Reps Per Exercise
Level 2: 15 Reps
Level 3: 20 Reps
1. Low Jack Tap
2. Down Dog Climber
3. Squat Jump
4. Side Plank Leg Lift (right)
5. Side Plank Leg Lift (left)
6. Hip Thrust (right)
7. Hip Thrust (left)
8. Scissor Bicycle
9. Kicking Warrior (right)
10. Kicking Warrior (left)
Repeat 1-3X
Optional: Pair with 30-Minutes Cardio of Choice
Hip Thrust: Lift Your Hips and Form a Straight Line from Knee to Shoulder.
Press the foot toward the ceiling.