Good Morning Everyone!
I hope you're ready for a tough workout! My new DietBet Challenge officially starts tomorrow, but early weigh in has started! If one of your goals is weight loss & you want to know more about the challenge you can read about it here: Fit & Healthy 2016: Challenge. I will be posting this week's workout schedule to go along with the challenge tonight so it will be ready for the early birds tomorrow.
Today's workout is a plyometric interval workout that will get you sweating and get your heart rate up. When I filmed this workout I burned 179 Calories during the 15-Minute Workout. That averages to almost 12-calories per minute, which is higher than most people get during running!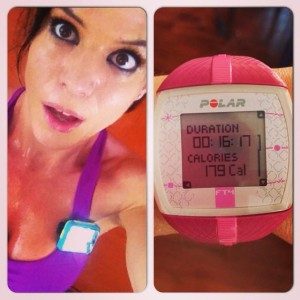 It's important to remember, that calorie burn does vary from person to person. During this workout I wore a heart rate monitor so it was very precise, but the burn will fluctuate based on how intensely you push, your weight and height. I am 5'5″ tall, so I am average height, and that should help you get a good estimate if you don't have your own heart rate monitor.
For Christmas I got the FitBit Surge Smartwatch, which monitors heart rate throughout the day and during workouts, tracks runs and indoor workouts, and has a built in pedometer for steps. I still have some components to try out, but I will write a review for anyone who is curious.
I hope you enjoy today's workout! If you want to join the DietBet Challenge you can sign up here: www.dietbet.com/BenderFitness. The game officially starts tomorrow, but you can join up until January 16th. The earlier you start, the easier it is to hit your goal! I hope to see you there!
Melissa
PS: Fit Fashion is from www.affitnity.com and you can get 15% off with the code BenderFitness at checkout.
–Gymboss Interval Timer set for 15 Rounds of 10/50.
1. Burpee
2. Mountain Climber
3. Jump Squat
4. Russian Kicks
5. Lunge Jump
6. Frogger
7. Surfer
8. Mountain Jumper 
9. Tuck Jump
10. Frog Hopper
11. Ninja Jump
12. Plank Jack
13. Speed Skater
14. Hip Lift Hook
15. Tuck Jump Burpee

Repeat 1-3X
Burpee
Burpee
Mountain Climber
Russian Kicks
Lunge Jump
Frogger
Surfer
Mountain Jumper
Tuck Jump
Frog Hopper 
Plank Jack
Speed Skater
Hip Lift Hook