Hi Everyone!
It's been a busy week, with some tough workouts. It's time to stretch it out with a Yoga Flow. So far this week our workout schedule has been:
Sunday: I did an 8-Mile Run Outside.
Monday: 15 Minute Flab-u-less Arm Workout with Cardio Fat Burn
Tuesday: 15 Minute Cardio HIIT All Over Fat Burn Workout & Thigh Sculpt
Wednesday: 15 Minute Sculpted Body Home Workout with Dumbbells
Thursday: Today is a Yoga Flow.
This flow is short, about 20 minutes, but it can be repeated. Yoga is all about balance, so this workout helps tone and strengthen your entire body. Maintaining flexibility in your muscles and joints helps relieve pain and prevent injury.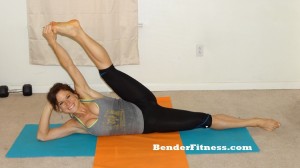 Here are some other Yoga Flows you might enjoy: Yoga Flows. Have fun with today's workout! Yesterday we had a celebration dinner for my sister finishing her last ever college course, and tonight we are going to the newest Star Wars movie premiere. Friday is Jesse's birthday, but we are planning on filming this weekend. It has been crazy hectic lately, which I will be writing more about, but there ARE new workouts headed your way! We just haven't had time to film them yet!
As always, you can find me on Instagram & Twitter: @BenderFitness and on Facebook: www.facebook.com/MelissaBenderFitness.
See you soon!
Melissa