Hi Everyone!
We have Big News! We are excited to announce that the BenderFitness team is growing. Jesse and I will be welcoming Baby Bender in late June or early July of 2016. We have been anxiously awaiting the right time to share our wonderful news with all of you. I am 12.5 weeks pregnant, and about to start my second Trimester of pregnancy.
So what does that mean for BenderFitness workouts? I will continue to film new workouts throughout my pregnancy, barring any complications that would prevent me from safely working out. I will not be able to go as full out high intensity during my workouts, but that doesn't mean you shouldn't be pushing!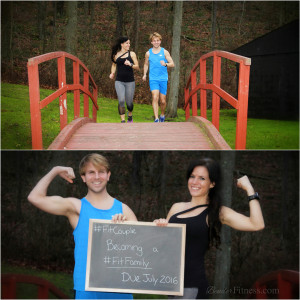 I have been more tired during the first trimester (and filming far fewer workouts). So I have also decided to start the New Year with a 12-Week Workout Challenge made up of older BenderFitness workout videos. The nice thing about having over 700 workouts in the BenderFitness archive to choose from is that we always have options!
I was torn between hosting three new 30-Day Workout Programs, or hosting my 12-Week Bikini Prep Program with some updated Diet advice and modifications. I have decided to create three new 30-Day Workout Programs that will combine both older BenderFitness Workouts and some of the new ones Jesse and I will be filming. I will also be hosting a new DietBet challenge for those of you with weight loss goals this year, to run along with the workout challenge. It's been a year since my last DietBet challenge, but I saw people make huge progress with the extra motivation. I will be posting more about the challenge, so be sure to check back!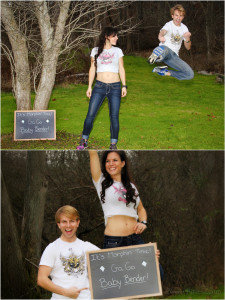 I am excited to share another aspect of my fitness journey with you all! It will also be interesting to see how my body responds to pregnancy & post-pregnancy fitness. There are a lot of myths and rumors out there about working out while you are pregnant and I look forward to sharing a lot of helpful information about pre-and-post natal exercise as I embark on this new journey.
Cheers to an Exciting New Year!
Melissa & Jesse
PS We had so much fun shooting our Pregnancy Announcement photos that I couldn't choose just one to share with you all! Special Thanks to Lee Ann Freeman at Generations Photography & Specialty Gift Shoppe. She did our wedding photos and announcement photos, and I couldn't be happier with how they turned out!