Hi Everyone!
I am still training on improving my speed so I can run a faster 5K. Last week I shared: Interval Workout to Begin Building Running Speed and Endurance.
This week, we are taking the same concept and basic foundation that we used in last week's run, & increasing the amount of time spent running at and slightly faster than our desired race pace. I am going to use the paces I did during my run as an example, but it's important to adjust your speed based on your current skill level and desired pace.
To improve your 5K speed you need to spend time teaching your body to run at faster paces. After initiating the speed training, the next focus is to increase your endurance at that pace. Running a 5K has two components: Speed & Maintaining that Speed/Endurance over a set amount of time.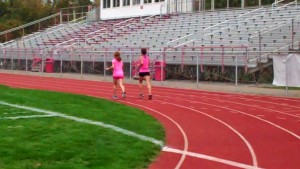 *400 Meters is one lap around a Standard Track. 200 Meters is Half a Lap Around a Standard Track.
Keep Rest breaks short in between reps, but allow your breathing to recover.
The Basic Workout:
Warm-Up Run at a Comfortable Pace
400 Meter (.25 Mile) Repeats at Goal Race Pace X4
200 Meter (.13 Mile) Repeats Slightly Faster Than Goal Race Pace  X4.
Cool Down Run at Comfortable Pace
I completed this workout on the Treadmill. These are the exact Paces I used, with the treadmill speeds. A treadmill takes some time to ramp up, so I adjusted the speeds to be a little bit faster to account for the slower time as the treadmill starts.
My Paces for This Workout:
Warm-Up: 1 Mile Run (7:58) – Speed 7.6 on Treadmill
400 Meter (.25 Mile) Repeats at Speed 8.7:
Interval 1: 1 Minute, 43 Seconds
Interval 2: 1 Minute, 43 Seconds
Interval 3: 1 Minute, 45 Seconds
Interval 4: 1 Minute, 42 Seconds
200 Meter (.13 Mile) Repeats-Speed Increased from 9.5-10.0
Interval 1: 49 Seconds (9.5 Speed)
Interval 2: 50 Seconds (9.7 Speed)
Interval 3: 47 Seconds (10.0 Speed)
Interval 4: 46 Seconds (10.0 Speed)
Cool Down: 1 Mile Run (7:58)-Speed 7.6 on Treadmill
Total Distance: 3.52 Miles
Total Running Time: 25 Minutes, 5 Seconds
I hope you all enjoy this workout! Let me know how you like it, and what your race goals are. You can leave a comment below, or on my Facebook page.
Have Fun!
Melissa
PS This workout is based on a workout designed for me by my favorite Running Guru: Ed Shephard (Shep). He is a great Cross Country and Track Coach. He has coached many individual runners and running teams to Championships. Shep was Jesse's running coach in High School. Both Shep & Jesse are Collegiate Level Athletic Hall of Fame Runners. If you have more running questions please let me know, and I will pass them on to Jesse & Shep.
Other Running Articles You Might Like:
6 Training Runs You Should Be Doing to Improve Your Speed
Track or Treadmill Workout for Faster Running Paces: 400 Meter Repeats for a Faster 5K

6-Tips for Becoming a Runner & Starting a Running Program
5 Minute Core Workout for Runners: Cross Training for Runners