Hi Everyone!
I decided to experiment in the kitchen last night. I wanted to bring in something to share with my friends at work, and it had to be Gluten & Lactose Free. I experimented a bit and came up with these delicious Lemon Coconut Chia Muffins.
I just got in my order from Thrive Market so I had all of the ingredients I needed on hand! I will write more about my experience with Thrive in a full blog post (and share some photos of the items I bought). Currently they are running a special promotion for new marketplace members. They are giving away a free jar of Organic Coconut Oil when you join. If you are interested check it out here.
Now, on to the recipe! You can mix and match muffin ingredients. I love Lemon so that was my choice for flavoring, but you can substitute berries, almond slivers, or other add-ins of choice.
This recipe uses Coconut Flour which is more dense and requires increased moist ingredients. The proportions of the other ingredients will vary if you decide to use another type of flour.
Ingredients: 
1 Cup Organic Coconut Flour
1/2 tsp Sea Salt
1 tsp Baking Soda
1/2 Cup + 2 tablespoons Honey
1 Cup Coconut Milk (Unsweetened)
6 eggs
1/4 Cup Organic Coconut Oil (melted)
4 tsp Vanilla Extract
1/4 Cup Organic Chia Seeds
Lemon Zest
*I used the peel of one whole lemon for my lemon zest. I would have liked it to have a stronger lemon flavor, so this amount can be increased to taste.
Pre-Heat Oven to 350 degrees F. 
Sift Dry Ingredients (except chia seeds & lemon zest) together in a large bowl.
Whisk or Blend honey, coconut milk, eggs, coconut oil and vanilla.
Stir wet ingredients into the bowl with dry ingredients.
Mix in Chia Seeds & Lemon Zest.
Pour batter into muffin tins (lined or greased). Fill cups 3/4.
Bake 25-30 Minutes. The top of your muffins should turn golden brown.
Remove and cool on a cooling rack.
Time to enjoy!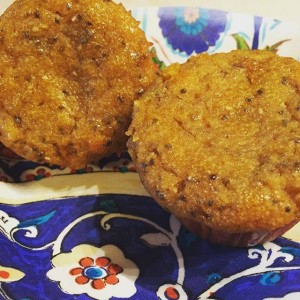 Nutrition Information: This information was estimated using Myfitnesspal.com
Per Muffin:
Calories: 245
Fat: 14 g.
Carbohydrate: 23 g.
Dietary Fiber: 5 g.
Protein: 6 g.