Hi Everyone!
Organic Foods at Wholesale Prices….Sounds pretty good to me! I am trying out Thrive Market. It's an online grocery store that specializes in Organic items. Think Whole Foods meets Costco. As someone who works full time, blogs, works out after work, runs, and enjoys spending time with family and friends, I have to admit the convenience of online shopping is very appealing to me.
Time is a precious commodity. Time saved on shopping means more time for life! I am really excited to try it out, and let you all know how how the process goes!
Like Costco, Thrive Market has an annual membership fee ($59.95 per year, which breaks down to $5 per month). However, there is a free trial for the first 30-Days. I just placed my first order within the 30-Day Trial. You also get an extra 25% off on your first order when you sign up.
The products available at Thrive Market are 25-50% below market prices, and 15-25% lower than other online retailers. I did some online comparison shopping to double check their claims, and the savings are as advertised! There are more than 3000 organic, non-GMO, healthy products to choose from. The products range from food staples, to tea, vitamins, protein powders, non-toxic cleaning supplies, baby items, beauty products, and sustainable home care items. They carry many products that I normally purchase.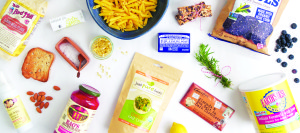 The free trial doesn't start until you place your first order, and you don't need to submit credit card information to sign up. Signing up will allow you to browse the products & see if the membership is right for your personal shopping needs. You only put in payment information if you decide to place an order.
You can custom search products based on categories of interest: Gluten Free, Paleo, Vegan, Raw, and more.  Many of the Brand Names you find at your local Organic food stores are available in this online Market Place.
I also like that all Thrive is 100% Carbon Neutral. All packaging, boxes and inserts are made from recycled paper, and are recyclable.
Have you tried Thrive Market? If so what do you think? I will update everyone on my experience when my first order arrives! I'm hoping for a great experience that will cut down on my grocery shopping time! If you want  to try Thrive, check it out HERE.
Melissa
DISCLOSURE: If you use a link from this page to sign up and eventually purchase a membership, I do get a small commission for referring you. That said, I only recommend products and businesses that I use myself and believe in.