Hi Everyone!
This is a full body workout. You can complete this workout for Reps or set your interval timer for 13 rounds of 10/50 and go for Max Reps.
I planned on filming a new workout yesterday, but Buffy (our shy cat) was sick. I took the evening off to take care of her, and she is feeling much better. We will be filming a new workout this evening when I get home from work. It will be up late tonight, or early tomorrow morning.
I know many of you face the same challenges of working full time, meeting all of your obligations, and fitting in your workouts. How do you make time for your workouts & health even when you are busy?
It gets tricky sometimes. I know that when I workout I have more energy to get everything else done. When I skip my workouts I feel more tired. I think it's important to prioritize your health. It makes all aspects of your life better.
I hope you guys enjoy the workout! See you tomorrow.
Melissa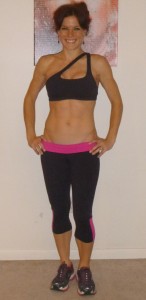 Beginner: 10 reps
Intermediate: 15 reps
Advanced: 20 reps
Repeat 1-3X
1. Jump Lunge
2. Elevator Ab Plank (right)
3. Elevator Ab Plank (left)
4. 90 Degree Leg Lift (right)
5. 90 Degree Leg Lift (left)
6. Single Leg Plank Knee to Updog (right)
7. Single Leg Plank Knee to Updog (left)
8. Jump Kick (right)
9. Jump Kick (left)
10. Hold and Roll
11. Weighted Heel Press (right)
12. Weighted Heel Press (left)
13. Hip Tap Abs
Repeat 1-3X