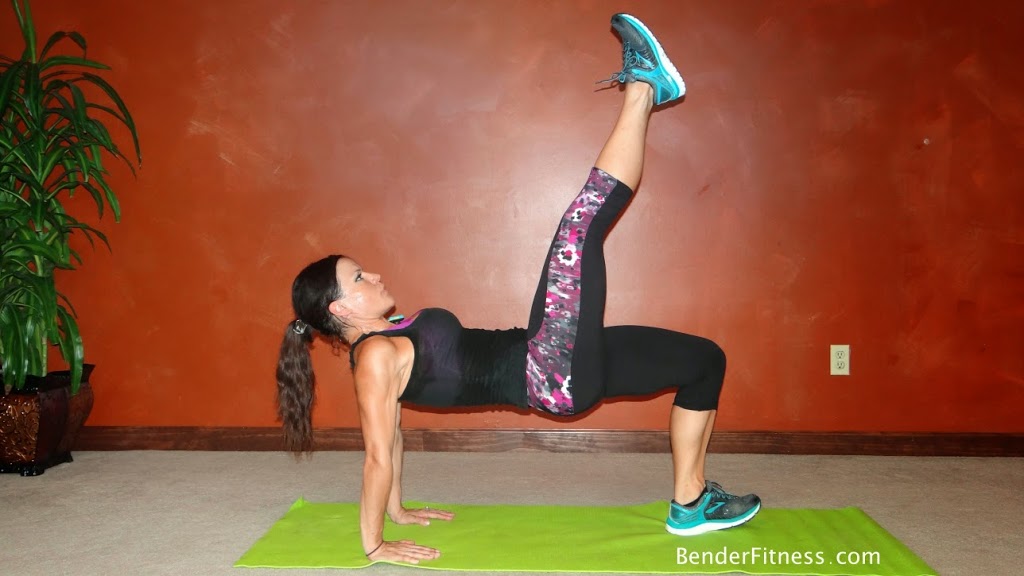 Hi Everyone!
Today's workout is a 21 Minute Full Body HIIT routine. It's a great fat burning, lean muscle building workout.
This is a quick, but effective full body routine. Jesse and I are back to teaching our boot camp and yoga classes, and this is a variation of the boot camp class we taught Tuesday evening.
Remember to push yourself throughout the workout. If you are repeating you can take a quick break in between rounds to get some water and recover, but go back into it before your body has time to cool down.
I hope you guys enjoy today's workout!
Melissa
PS Today's fit fashions are from www.Affitnity.com, and Bender Fitness followers get 15% off with the code BenderFitness at check out. I am loving the new pants!
Equipment: Gymboss Interval Timer set for 16 rounds of 30/50. *Cardio of Choice: High Knees, Jump Jacks, Jump Rope
Repeat 1-3X

-Cardio
1. Burpees
-Cardio
2. Double Kick Back (right)
-Cardio
3. Double Kick Back (left)
-Cardio
4. Temple Tap Abs
-Cardio
5. Lunge Jumps
-Cardio
6. Goddess Reach
-Cardio
7. Walking Push-ups
-Cardio
8. Alternating Hip Thrust
-Cardio
9. Plank Knee Drop
-Cardio
10. Squat Jumps
-Cardio
11. Hydrant (right)
-Cardio
12. Hydrant (left)
-Cardio
13. Side Plank Taps (right)
-Cardio
14. Side Plank Taps (left)
-Cardio
15. Warrior III (right)
-Cardio
16. Warrior III (left)