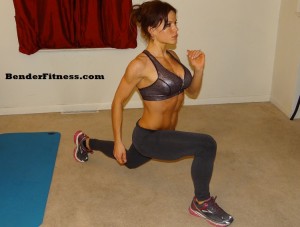 Hi Everyone,
Welcome to Day 1 of the BenderFitness DietBet Challenge!
The challenge doesn't officially start until September 3rd, but weigh-in's start today so why not get a head start with the workout program?
We are starting off strong with a Bender Boot Camp Workout. This is an actual routine that Jesse and I have taught in our Boot Camp Classes.
You can choose your format for this workout. You can complete the workout for Reps or HIIT style. In my Boot Camp class we complete the workout HIIT style so everyone can work at their own pace to maximize the challenge.

This workout can be repeated 1-3X. Total Workout time should be between 30-60 minutes.
Enjoy the workout!
Melissa
You can also find me on Facebook, Instagram, or Twitter.
Click the link to get your own Gymboss Interval Timer!
Beginner: 10 reps, 30 seconds timed exercises
Intermediate: 15 reps, 45 seconds
Advanced: 20 reps, 60 seconds

Or: Go for Max Reps during each 50 second interval, with 10-20 seconds of rest between exercises.

Round 1:
1. Jumping Jacks
2. Frogger Hip Thrust
3. Pendulum Squat
4. High Knees
5. Side Plank Hip Lift (right)
6. Side Plank Hip Lift (left)
7. Jump Squat
8. Temple Tap Abs
9. Burpee
10. Russians

Round 2:
1. High Knees
2. 1 Leg Hip Thrust (right)
3. 1 Leg Hip Thrust (left)
4. Lunge Kick (right)
5. Lunge Kick (left)
6. Mountain Climbers
7. Twisting Situp
8. Plank Crunch
9. Prone Heel Tap
10. High Knees

Repeat 1-3X