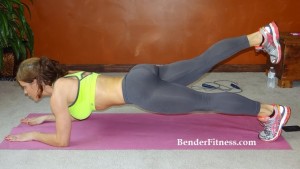 Hi Everyone!

We had a busy weekend. I will be writing a blog post about the race I did yesterday. I am hoping to have time to film a new workout tonight and get it posted, but we have some things to take care of tonight so I have to be flexible with my time this evening. 

If I can't get it done tonight I will be filming it as soon as I get home from work tomorrow.

In the meantime this is one of my older workouts. I enjoyed this workout a lot, and I have wanted to repeat it. 

This workout alternates jump roping and 15 different plank variations to work the entire mid-section and back. Being able to do the plank with proper form results in more than just stronger abs, it also improves the strength and resilience of your low back. This helps prevent injury, and relieve low back pain. 

If you aren't sure if you have proper form ask someone, look at yourself in a mirror or have someone take your picture while you hold plank. 

Although this is an incredibly effective exercise, it is often performed inaccurately.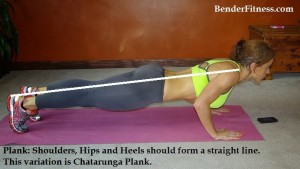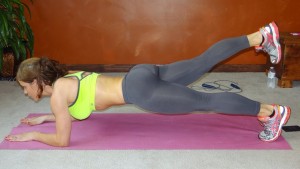 During Leg Lift Plank don't allow the back to arch.
Maintain a strong core throughout the movement to support the low back
and activate the glutes. 
I hope you all enjoy this workout. Remember, if you don't have a jump rope you can substitute high knees or mountain climbers in between planks. 
Have fun!
Melissa
Click the link to get your own Gymboss Interval Timer!
*Plank 50 seconds per exercise, Jump Rope 30 seconds between each exercise. 
The entire routine takes 20 minutes. 

1. Forearm Plank
-Jump Rope
2. Right Side Plank
-Jump Rope
3. Left Side Plank
-Jump Rope
4. Chatarunga Plank
-Jump Rope
5. Rotating Plank (on the forearm)
-Jump Rope
6. Knee Drop Plank
-Jump Rope
7. Plank Jack
-Jump Rope
8. Elbow Tap Plank (right)
-Jump Rope
9. Elbow Tap Plank (left)
-Jump Rope
10. Leg Lift Plank
-Jump Rope
11. Plank Crunch
-Jump Rope
12. Side Plank Hip Lift (right)
-Jump Rope
13. Walk the Plank 
-Jump Rope
14. Side Plank Hip Lift (left)
-Jump Rope
15. Plank Step
-Jump Rope