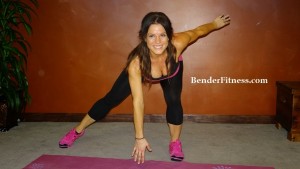 Hi Everyone!
Sorry for getting this posted late! This was my workout last night. My sister and niece came to visit me so I got in a late workout yesterday. I didn't miss my workout! This is Workout Day 16 of the 30 Day Challenge.
This is a full body workout, and you will definitely work up a sweat! I alternated cardio moves with strength building exercises and completed the workout in 10/50 second intervals. The pacing of this workout helps to maximize calories/fat burned during the workout, while increasing your strength and endurance.
I went through this workout once. I wanted to repeat it, but I didn't have enough time last night. It can be repeated up to 3X if you have the time, motivation and energy! 🙂
The check-ins are still going strong, and I have started receiving some great progress pictures! Don't forget to check in. It makes you more likely to stick with the challenge. You can check in on Facebook, Instagram or Twitter.
Enjoy the workout!
Melissa
10/50 Second Intervals. 10 Seconds Rest, 50 Seconds Max Reps.

1. Lunge Jump Kick Back
2. Knee Drop Plank
3. High Knees
4. Overhead Squat
5. Ab Twist
6. Mountain Climber
7. Goddess Twist
8. Dive Bomber
9. Low Jack
10. Side Lunge Tap
11. Full V-Up
12. High Knee Twist
13. Sumo Squat
14. Hip Lift
15. Knee Tuck