Hi Everyone!

I love listening to music when I run. I don't do it all the time, because I also love the meditative state that comes with running: the connection to the moment and each breath you take.

For my half marathon I had a great playlist that kept me motivated the entire time. I kept it upbeat, and I put my i-pod on shuffle.

One of my favorites is always "Seven Nation Army" the Glitch Mob re-mix version.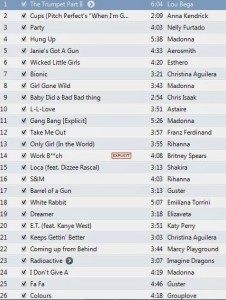 I made my playlist exactly two hours because I was confident that I would finish the race by that time. (Woohoo for surpassing that goal!)

I am always looking for new songs to add to my playlist, so if you have any recommendations feel free to post them in the comments below.

Melissa

PS I tweaked my ankle at work on Monday, and it's been a bit sore so I have taken the last few days off to let it heal. Taking time off is never fun, especially when the rest of you feels great, motivated and ready to go. It's worth it to take a few days off and make sure you're 100% healthy and healed in the long run. Planning a workout tomorrow. 🙂 See you then!