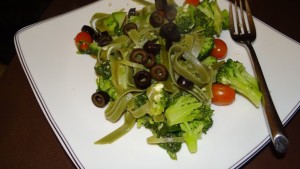 Hi Everyone!

This is a simple and healthy vegetable pasta recipe. If you're like me it can be difficult to limit yourself to just one serving of pasta. Even as a child I loved to eat plain pasta noodles. When I was in college I worked at an Italian restaurant with super sized portions. I could never cut pasta out of my diet, but I try to make healthful food choices. For me one of the best ways to eat pasta in a healthy way is adding a lot of veggies.

I like this article on how to measure one serving of pasta: Measure Dry Pasta.

The recipe is below. The added vegetables allow me to enjoy my pasta without overdoing it, while still having a delicious and filling meal. Enjoy, and remember if there is something in this recipe you don't like take it out and substitute something else! I didn't use any meat, but this would also be good with chicken or shrimp.

Melissa

Ingredients:

-Spinach Fettuccine Noodles (2 servings) (you can use a pasta of your choice)
-1 tablespoon of Extra Virgin Olive Oil
-1/2 tablespoon minced garlic
-2 cups chicken or turkey broth (low sodium) (To make this recipe vegan use vegetable stock)
-Vegetables of choice: I used 4 cups broccoli, 1/2 cup cherry tomatoes 4 cups of spinach, and sprinkled the top with sliced black olives. I would have added some artichoke, but I didn't have any on hand.
-Optional: lightly sprinkle the finished product with feta or Parmesan cheese. A little goes a long way!

Directions:

-Boil water and prepare pasta as directed on the box.
-In a separate pan heat olive oil and garlic over medium heat.
-Add broth of choice to the pan.
-Add harder vegetables first (for example if you are using carrots add these so they are able to cook longer). The vegetables I used are all softer so I added everything except the spinach and olives at the same time.
-Allow vegetables to cook to desired tenderness, stirring occasionally. Add spinach and cook 1-2 minutes.
-Strain Pasta.
-Add pasta to pan with vegetables, and mix together.
-Serve Vegetable Pasta. If desired sprinkle with feta cheese and black olives. *You can add the olives at the same time as the spinach, but Jesse doesn't like olives so I added them separately.