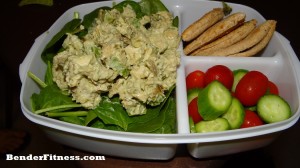 Hi Everyone,
I am giving you a sneak peek into my lunch box for tomorrow. This meal took less than 5 minutes to put together (the chicken was left over from dinner last night). 
Planning your lunch, and putting it together the night before can help you successfully make healthy choices even when you are on the go. You are ensuring that you have something healthy that will give you energy for the day, and prevent mindless snacking, or poor meal choices. 
For lunch tomorrow I am having Avocado Curry Chicken Salad, fresh spinach, mini cucumbers, cherry tomatoes, and a whole wheat sandwich thin. I will also bring an apple, and plenty of fresh water. You can click on the link above for the recipe. If you're not a fan of spices, leave out the curry. 
A little bit of preparation will save me time and stress tomorrow morning when I am heading out to work. Plus, I know that I have a healthy and delicious meal that will give me energy during the day. 
See you tomorrow with a new workout!
Melissa