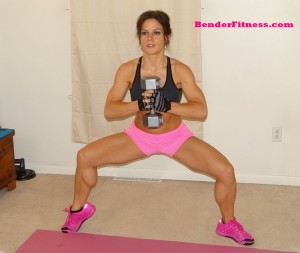 Hi Everyone!
This is a two part, low impact workout. It utilizes several compound movements, and can be done with body weight or dumbbells.
This section of the workout is focused on lower body, and can be repeated up to 3 times. It can also be done alone, or combined with part 2, which focuses on abs.
I will also be posting a video that combines both sections of the workout. The separate videos make it easier to select the amount of time you have for your workout, and how many times you want to repeat each section.
Enjoy!
Melissa
Click here for part 2 of this workout!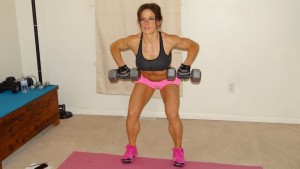 All Levels: Max Reps During Each 50 Second Interval
*Do not sacrifice form for speed. Form is number one!
*Weights are optional, and should be selected based on what is challenging for you. My dumbbells weight 20 lbs each.
Repeat 1-3X. Follow with the Low Impact 8 Minute Ab Interval Workout.

1. Heel Lift Squat
2. Dip Kick
3. Squat Row
4. Curtsy Lunge Twist Lift (right)
5. Curtsy Lunge Twist Lift (left)
6. Romanian Deadlift
7. Press and Lift (right)
8. Press and Lift (left)