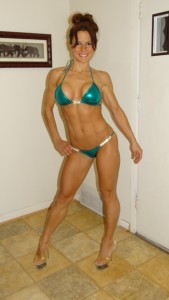 Hi Everyone,

I have been sharing my competition journey with everyone for almost 12 weeks now! I can't believe how quickly time flies, and how close I am to competition day. In less than 24 hours my competition will be over!

This week has been really hectic. I apologize for not being able to share any workouts. The week before a bikini competition is filled with appointments!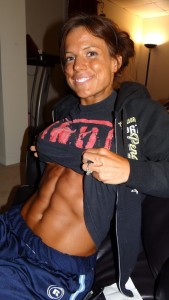 Wednesday I got my nails and toenails done, and had my first spray tan appointment. For my mani/pedi I kept it easy and got a french manicure. I have come to think of the spray tan as stage makeup.

I had my second spray tan Friday night, for my Saturday show. The tan looks insanely dark in person, but on stage it will keep me from looking washed out in the lights. Here is a picture of me looking exhausted and overly tan. I am not allowed to take a shower until after the competition. This is no fun for two reasons. One, I really want a shower and I think the tan smells funny. Two, it means no workout for me because the sweat will mess up my color.

It is very strange to me that I have worked out far less this week than I normally do. Between work and all the last minute appointments to get ready for the show (and the shower/sweat restrictions) there has been no time.

The tan definitely helps your muscles pop, and helps even out your skin tone.

As far as diet, I have made a few changes this week. I am focusing on staying below my normal intake of sodium and sugar. It is hard to stay below the daily recommended serving of sugar, because I typically eat a lot of fruit. The daily recommended serving of sugar per day is 39 grams. For the past two days I switched my normal egg sandwich on a whole wheat sandwich thin for egg whites, and a half cup of oatmeal in the morning.

I have been drinking a green smoothie daily (click the link for the recipe. I omitted the kiwi this week.) I am also eating about 150 grams of carbs per day. I did not eliminate dairy, and have been having Greek yogurt every day. I have been craving peanut butter (it's one of my favorite foods, but I have been even more hungry for it than normal!) I have been putting PB in my smoothies, mixing it with Greek yogurt, or even just eating a spoonful for a snack. I am still eating 1800-2000 calories per day.

I will be posting a more thorough breakdown of my diet this week, as well as a breakdown of the day of the competition.
I can't wait!
Melissa