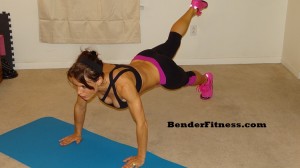 Hi Everyone!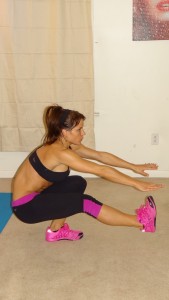 This is the full length version of my Ultimate Body Weight Workout. A full length version of this video was requested on my facebook page. It is a great full body, fat burning workout. Intervals are incorporated throughout to maximize the fat burning, while also allowing you to build lean muscle mass. 

The workout was tough on me! It took me about 30 minutes to complete. I definitely have to work on my one leg squats, they used to be a lot easier for me. It's a good motivation to start putting them back into my workouts. 

I was able to go through this workout almost 2 minutes faster than my original time. I also added a twist to the oblique drops this time, so I could have gone through it faster if I stuck to the original variation. I was happy with my time. It shows that my level of fitness has progressed (even though the workout is still tough!) 

At the very end of the video, the camera went into "stand-by" mode, so you miss about two reps of the workout before it kicks back in for the last exercise. Technical difficulties are unavoidable sometimes. 

This is a more advanced workout. It can be modified based on your level of fitness. I wrote down my recommended number of reps below the video. Remember to build yourself up, and listen to your body. You will get stronger if you keep challenging yourself. 

Have a great day! I hope you enjoy the workout!
Melissa

PS Fit Fashion today is from www.Affitnity.com. If you like it, remember to use the code BenderFitness at checkout to receive 15% off. 

 Ultimate Body Weight Workout 
 Beginner: 10 reps, 30 seconds timed exercises 
 Intermediate: 15 reps, 45 seconds 
 Advanced: 20 reps, 60 seconds 
 *Unless otherwise noted 

1.  Burpee (Beginner: 5, Intermediate: 8, Advanced: 10 reps) 
2. 1 Leg Jumping Pushups (Beginner: 5, Intermediate: 8, Advanced: 10 reps) 
3. High Knees (timed) 
4. 1 Leg Squat Right (Beginner: 5, Intermediate: 8, Advanced: 10 reps) 
5. 1 Leg Squat Left (Beginner: 5, Intermediate: 8, Advanced: 10 reps) 
6. Lunge Jump (timed) 
7. Mountain Climber (timed) 
8. Bow Pose Kicks/Prone Hamstring Curls (Beginner: 15, Intermediate: 25, Advanced: 30 reps) 
9. Jump Squats (timed) 
10. Runners Lunge to Balance/Warrior 3 (right) 
11. Runners Lunge to Balance/Warrior 3 (left) 
12. Pendulum Squat 
13. Oblique Drop (right) 
14. Oblique Drop (left) 
15. Plie Jumps (timed) 
16. Side Plank with Leg Lift (right) 
17. Side Plank with Leg Lift (left) 
18. 3 Part Abs 
19. High Knees 
20. Diagonal Lunge Reach 
21. Burpees (Beginner: 5, Intermediate: 8, Advanced: 10 reps)

This is the original tutorial: