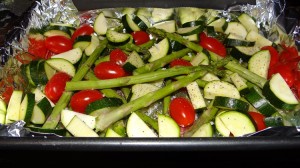 Hi Everyone!

I am going to give you a glimpse into my Sundays. Sunday has become the day when I prepare to eat healthy all week long. It makes mornings, and packing my lunch for work much easier. Plus it gives me plenty of healthy options that I can grab on the go, and helps stave off unhealthy cravings.

I have also implemented Slow Cooker Sundays. I use the crockpot and make something for dinner, that I will also enjoy for leftovers during the week.

So what did I prep? I'm glad you asked!

I usually bake some chicken, fish, or both. This week I did chicken, and made Seafood Stew in my crockpot.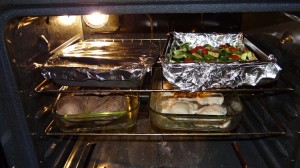 Baked Vegetables, Baked Sweet Potatoes, Chicken, and Butternut Squash Medley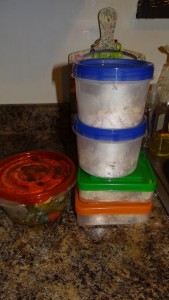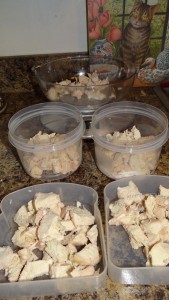 I recently started measuring out portions of some of my foods. I weighed my chicken, and separated it into 4 oz. portions that I can easily grab or add to my lunch. The container's with the blue lid I typically add spinach leaves and some grape tomatoes to make a quick chicken salad. Other times I toss the chicken with some vegetables, or even make an avocado chicken salad (click for the recipe).

I cut up the chicken breast to make it easy for lunch, plus it can be added to a quick stirfry during the week if you want to make a fast dinner.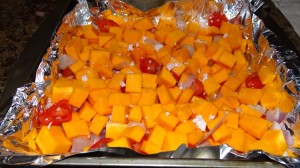 I also baked two trays of vegetables. I love veggies, and I like to have some type of vegetable with every meal. These are my trays of vegetables before they went in the oven.

The top photo is butternut squash, onions, and grape tomatoes. When I put the tin foil down I lightly brushed it with extra virgin olive oil. On top I lightly sprinkled some coconut oil. I incorporate healthy fats into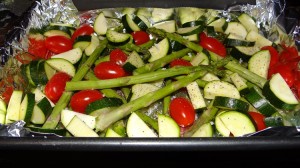 my diet. When cooking the squash I covered the dish with tin foil to allow it to soften.

The second photo is zucchini, asparagus and grape tomatoes. I lightly brushed olive oil on the tin foil before baking, and then I added a touch of fresh ground pepper, and fresh ground sea salt. Delicious, and easy. I baked both veggie dishes at 375, at the same time as I was baking my chicken and sweet potatoes.

I don't do anything special with my sweet potatoes. I poke them with a fork, set them in a glass dish, and cook until they are slightly soft to the touch (I wear my oven glove while testing this. Don't get burned!) To make sure they are ready for lunch I cut them in half. One serving of sweet potatoes is 4 oz. Usually I just bake small sweet potatoes, and guesstimate them to be around 4 oz. Today I baked larger potatoes, and weighed them. Cutting it in half gave me a 4 oz serving.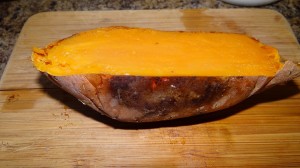 4 oz serving of Sweet Potatoes
When the squash was almost done cooking I added some fresh baby spinach (Kale is another great option), walnuts, and dried cranberries. It's also delicious with some feta, but I didn't have any today so I left it out. This is one of my favorite side dishes, and it's also great as a vegetarian meal, or with some chicken thrown in.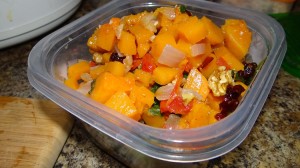 The roasted veggies looked delicious when they were done cooking. In the summer I love making grilled vegetables, but they are just as good in the oven.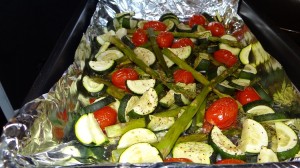 My crockpot meal tonight was fantastic. I made a Seafood Stew, and served it over brown rice. I have plenty leftover for the week. This meal was quick, and easy, and I will be sharing the recipe on my blog so check back for that!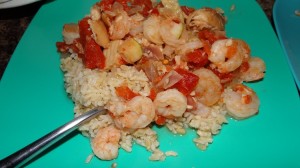 Shrimp, Tilapia, and Veggies over Brown Rice.
When I pack my lunches all week I will have plenty of nutritious, filling, and tasty things to chose from. Plus, if I don't have a lot of time I can keep dinner simple by throwing some chicken or fish in the oven, and still have some great vegetables ready to go on the side.
That was a peek into my meal prep, and diet. I will also be sharing some examples of what a typical day of meals looks like.
Have a great night!