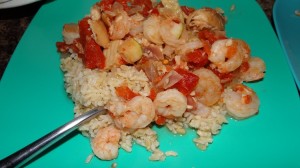 Ingredients:
-1 28 ounce can of Organic Diced Tomatoes
-1 14-ounce (about 1.75 cups) Low Sodium Organic Chicken Broth
-1 Cup Chopped Onion (I used red onion)
-1 Cup Zucchini (Diced or Sliced and cut in half)
-1/4 Cup Water
-2 Cloves Garlic Chopped
-4 4-ounce pieces of Tilapia (or fish of choice, crab, mussels, clams are all good options)
-1 Pound Cooked, Shelled and De-veined Shrimp
-1/2 teaspoon Old Bay Seasoning, or Cajun Seasoning
-Sprinkle of Roasted Rep Pepper (optional)
-Hot Sauce (Optional)
*I served mine over brown rice. You can add rice or quinoa to the crockpot (there is enough liquid in the recipe), but I prefer making the rice fresh.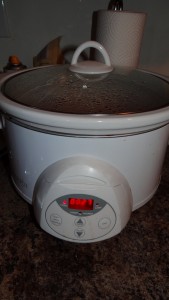 Directions:
In your crock-pot combine all ingredients except shrimp. I allowed the Tilapia to cook in the stew, but you can pre-cook it and add it with the shrimp later if you prefer.
Cook on low 5-6 hours. If you are in a hurry you can cook on high 3 to 3-1/2 hours.
Add Shrimp (and fish if you decided to wait), and stir into mixture. Fish should flake and break apart. Continue cooking on high 15 minutes.
Serve over rice or eat as is.
Enjoy!