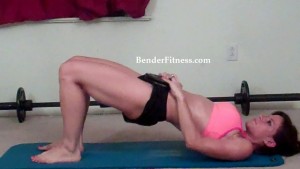 Hi Everyone,
This was my Monday Night Workout. The real time workouts take a long time to upload, so it didn't finish until after I was in bed. 
I think you guys will really like this workout. I did a long run yesterday (8 miles) so I only went through it one time. This would be a good workout to do with one of my high intensity cardio routines, or some jump roping. Also, you can repeat it 2-3 times for maximum results. 
Okay everyone, have a great day!
Melissa
PS The alternating runners lunge is tough! If it's too difficult you can modify it a couple of ways. Come to standing in between each lunge, or tap the floor without bringing your hands up into chair pose. 
Beginner: 10 reps
Intermediate: 15 reps
Advanced: 20 reps

Repeat 1-3X

1. Curtsy Lunge Kick (right)
2. Curtsy Lunge Kick (left)
3. Stability Ball Pull Abs
4. Stability Ball Pull Butt
5. Rotating Plank
6. Seated Twist
7. Side Lift Lunge (right)
8. Side Lift Lunge (left)
9. Weighted Bridge
10. Alternating Runners Lunge