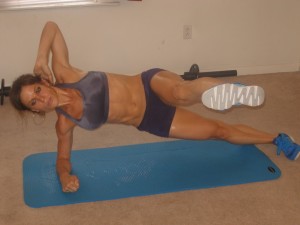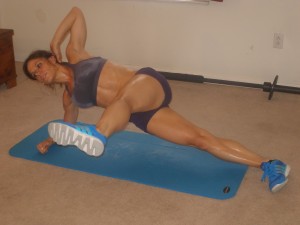 Hi Everyone,
This was my workout for the day! It was a tough one! Right after competing this workout I went out for a 3.5 mile run. I am doing a 5K on Saturday, so I am trying to get in some running mileage. We were under a heat advisory all weekend, so my running schedule was impacted quite a bit.
If anyone wants to donate to the cause click here The run benefits the Cure Sarcoma organization. Jesse and I did this run last year. We're actually in the main picture on the website.
I did some more hula hooping as a pre-workout warm up today. I had a lot of fun doing yesterday's video.
Okay everyone, have a great night! I will see you tomorrow!
Melissa
Beginner: 10 reps
Intermediate: 15 reps
Advanced: 20 reps

Note: On the last exercise (Side Plank Double Lift) I only completed 10 reps. They were really tough for me today. Of course that means I will be doing them again soon. 🙂

1. High Knees (60 seconds)
2. Burpee
3. Temple Tap Abs
4. Heel Cross/Side Scissor Abs
5. Full Sumo Pushup
6. Surfer Jump
7. Warrior 3 Heel Pulse (right)
8. Warrior 3 Heel Pulse (left)
9. Side Plank Double Lift (right)
10. Side Plank Double Lift (left)