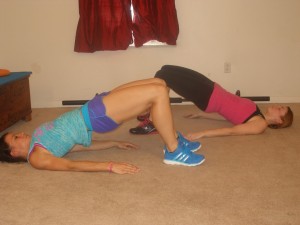 Hi Everyone,
Marie joined me for a workout today. This is a beginner workout, that will work your entire body. Marie is going to do a run this evening to add some cardio to this workout. 
I also included some pictures of Marie's progression. These are her before and after photos. 
The photo in the black shirt is from December (about 10 days after she had her baby), the photo with the baby is from February when she did a workout with me, and the photo in the pink is from today. Marie has gotten much stronger.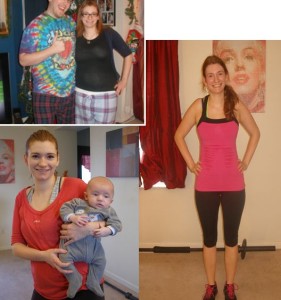 This is actually the fourth video Marie has done with me. To see some more beginner workouts with Marie you can check out the "Guest Star" tab above, or click on these links:
I hope you all enjoy the workout, and seeing Marie's progress!
Melissa
Beginner: 10 reps, 30 seconds timed exercises
Intermediate: 15 reps, 45 seconds
Advanced: 20 reps, 60 seconds

1. Mountain Climbers (timed)
2. Warrior 3 Squat
3. Pendulum Plank (right) (timed or reps)
4. Pendulum Plank (left) (timed or reps)
5. High Knees (timed)
6. Spiderman Pushup
7. Bridge Squeeze (timed)
8. Plie Jump
9. Side Plank (right)
10. Side Plank (left)

Repeat