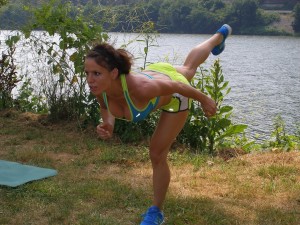 Hi Everyone,
This was my workout for the day! As soon as we were done filming Jesse did a hard run, and I did an easy 35 minute run. It was hot outside! Be sure to stay hydrated with your workouts, especially if you are outdoors.
There were gorgeous butterflies, and a big family of geese to keep us company. I recently read that going outside decreases your body fat percentage. Initial studies indicated that it may be linked to a decrease in stress that occurs when you spend time in nature.
You should feel the burn in your butt, thighs, and legs with this workout. I know I did! Working the muscles in your lower body is important for a variety of reasons. Your lower body houses many large muscles, so working this area increases your calorie burn. Also, it helps stabilize your entire body, while working your lower abs. Being truly fit and healthy should mean finding balance in your body.
I posted a new recipe for grilled eggplant. It's delicious! So be sure to check that out under the recipes tab above.
I have yoga class tonight, so it's been a busy and active day for me!
I hope you enjoy the workout!
Melissa
Beginner: 10 reps
Intermediate: 15 reps
Advanced: 20 reps

Repeat 1-3X.

1. Long Jump Burpees
2. Side Leg Lift (right)
3. Side Leg Lift (left)
4. Squat Kickback (right)
5. Squat Kickback (left)
6. Leg Series (right)
7. Leg Series (left)
8. Runners Lunge Kick (right)
9. Runners Lunge Kick (left)
10. Squat Kick (alternating)
11. Cheek to Cheek Plank
12. Plie Jump
13. Scissor Abs
14. Heel Pulse Squat